Hereford Prime grass-fed beef specialises in high-end fine dining and retail outlets.
The chefs who choose to offer hereford prime do so for the genuine story behind the brand, the quality control, the flavour and texture of the beef. They are all passionate about quality beef products and serving quality dishes for their customers.
Hereford Prime brand manager Natalie Campbell put some quick-fire questions to two chefs using Hereford Prime.
Restaurant name:
Paddock to Plate Waikato

Location:
186 Victoria Street, Hamilton

Name and Title:
Tejas Nikam, Head Chef

www.p2pwaikato.nz
facebook.com/p2pwaikato
Describe your business and cooking style:
We are a steak house and we love cooking with produce that's in season and supporting our local community through the celebration and promotion of the excellence of Waikato produce. This is central to our philosophy at Paddock to Plate Waikato.
We're passionate about cooking with local, seasonal ingredients because we love how they can inspire new dishes. Not only do fresh, in-season ingredients enhance flavour, they are also great for our customers, and their consumption minimises impact on the environment.
Why do you choose to offer Hereford Prime on your menu?
The quality of the product and consistency is always excellent. The minimum of 21 days ageing makes the beef more superior, tender and even tastier. I feel I have a responsibility to do justice to such a wonderful product by using it in our restaurant.
Who do you source your Hereford Prime from?
We source Hereford Prime beef from Magills in Te Awamutu.
What Hereford Prime cuts are available on your menu and how do you serve them?
We have several cuts available: A 500g tomahawk on the bone, a 250g sirloin, 300g scotch fillet, 250g beef rump, and a 200g burger. All the beef is cooked on a chargrill to the liking of individual customers. Customers can choose their sides and sauces from various options available on the menu.
Why did you choose those cuts specifically?
As a steakhouse we need to offer a wide range of cuts, but at the same time I feel it's challenging to cook various cuts on the chargrill.
Tell us about your most popular Hereford Prime dish?
Without a doubt the 18-hour slow-cooked 500g tomahawk rib on the bone is the most popular cut on the menu, and our signature dish. I personally like to pair it with our twice-cooked skin-on potato chips and green peppercorn sauce.
As a chef/restaurateur what do you like about Hereford Prime?
Hereford Prime beef is one of the best quality beef programmes in New Zealand. The quality of meat is consistently good. The minimum 21 days aging ensures minimal shrinkage, while enhancing the natural tenderness of the product.
Do you brand/identify Hereford Prime on your menu?
Yes, we proudly brand and showcase all our suppliers and brands and Hereford Prime is one of them.
What do your customers say about Hereford Prime?
Paddock to Plate has only been open a few months but we continually receive good feedback from our guests for the quality of meat we are using, and that we cook it perfectly.
As a chef/restaurateur what is your favourite Hereford Prime cut and why?
My favourite Hereford Prime cut is eye fillet. It's a fabulous cut of beef and can be paired with such a variety of ingredients or served simply with beef jus.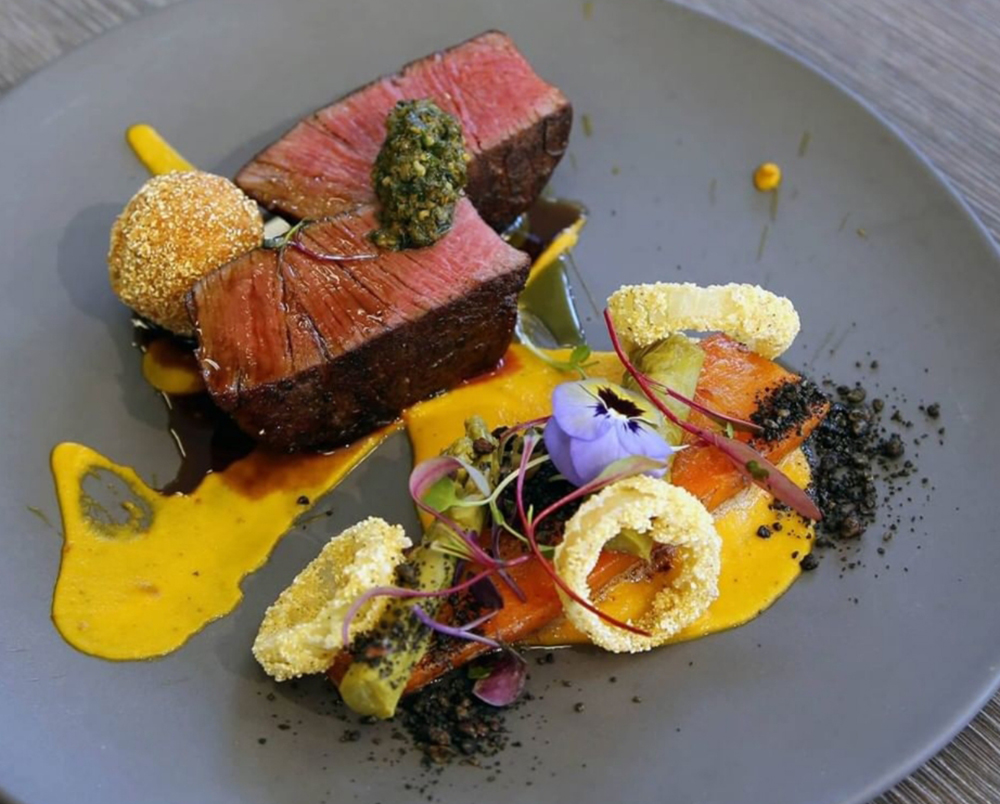 What is your favourite sub-primal (secondary) cut and why?
Brisket is my favourite secondary cut. I feel you can use them in any kind of cuisine like Asian, Indian, European. Slow cooking of this cut brings out all its natural flavours.
How do you personally enjoy your Hereford Prime cooked, and served with what?
I really like to keep my Hereford Prime simple, cooked medium rare and served with mash and pesto.
Can you share any stories or feedback from your Hereford Prime diners as to why they enjoy the product and your dish?
This is a quote that was left online by a diner recently. "Might be slightly biased but the tomahawk rib eye at Paddock to Plate was far and away the best steak I've ever eaten. Awesome service and atmosphere, looking forward to the next time!"
If you have won any awards for one of your Hereford Prime dishes, please provide the details:
I have won a Beef + Lamb NZ Gold Plate for several years – 2017, 2018 and 2019. And I'm currently a Beef + Lamb NZ ambassador chef for two consecutive years – 2019-2020 and 2020-2021.
Do you have any words of advice/tips for the home cook wanting to impress with a Hereford Prime dish?
Start cooking your meat from room temperature and not straight from the fridge, and rest well after cooking. Please, don't cook premium cuts to well done.
Restaurant name:
Prime Waterfront Restaurant & Bar

Location:
2 Rees St, Queenstown

Name and Title:
Mikey Cook, Head Chef

www.primerestaurant.co.nz
facebook.com/prime.queenstown
Describe your business and cooking style:
We are a rustic style steak house with a great selection of New Zealand Hereford Prime beef that we take time to source from local farmers. We also source the rest of our meat and fresh produce from locally owned and operated businesses in Central Otago and Southland. We take pride in being local and using local in all areas we can.
Why do you choose to offer Hereford Prime on your menu?
It's a great point of connection for Kiwi diners; most of us have heard or know of Hereford beef, and especially in the time we've had over the past 12 months, it's important to source what we have in our own backyard. It's 100% grass-fed free-range beef from Southland – showcasing paddock to plate.
Who do you source your Hereford Prime from?
We source our Hereford Prime beef from the Flynn family at Bowmont Meats in Invercargill.
What Hereford Prime cuts are available on your menu and how do you serve them?
We have a good range to keep everyone happy: a 200g beef fillet, 200g sirloin fillet, 250g/400g rib eye fillet, 500g rib eye on the bone and a 300g rump steak. We cook all our steaks on the chargrill and finish them with a lick of garlic butter as they are resting. Diners can choose a style of starch from chunky steak fries to whipped potato mash or rosemary-salted parmesan and truffle roast potatoes, and a choice of one of our house sauces: red wine jus, pepper, mushroom, or blue cheese.
Why did you choose those cuts specifically?
Not everyone likes fatty cuts; they prefer something a little leaner and light and I feel the great selection we have covers all bases for all kinds of beef lovers. You have a delicate fillet and then the big bold richness of a rib eye and then the rump, which I jokingly call the farmers' cut, because it's honest, hardworking. I find only the real beef-eater enjoys a rump, but when cooked to perfection it's a delicious cut.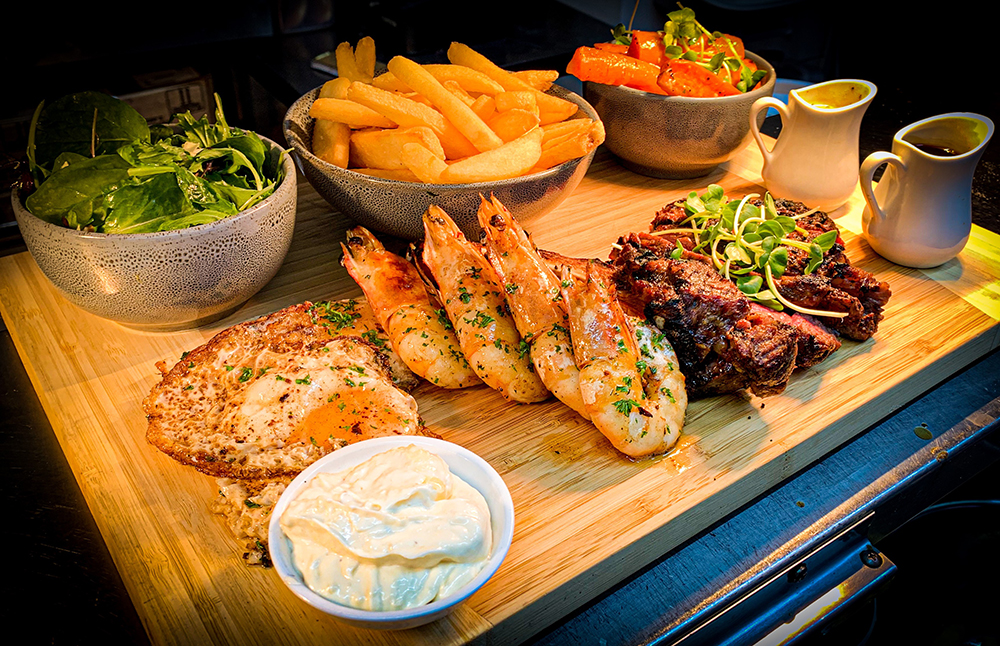 Tell us about your most popular Hereford Prime dish?

We serve a 500g OP rib eye on the bone, served medium rare and carved by our chefs, it is to be enjoyed as a sharing style served with rosemary-salted parmesan and truffle roast potatoes, oven roasted carrots with a sesame and burnt honey dressing, and our Prime Restaurant house salad with your choice of two of our amazing house sauces.

As a chef/restaurateur what do you like about Hereford Prime?

Most importantly it's local, it's 100% grass-fed New Zealand beef. It lets me showcase to our customers a great product at an affordable price. Hereford Prime is always tender and delicious; it's hung and dry aged just for the right amount of time.

Do you brand/identify Hereford Prime on your menu?

Yes, absolutely! It's front and centre on our menu under our grill selection. It gets people talking if they don't know what it is, and it's great to have the background and experience to inform people on what it is and why it's so good.

What do your customers say about Hereford Prime?

We get great feedback from our customers, quite often people mention it's the best steak they've ever had. I think that's a mix of things, from the way it's farmed and butchered to the respect we give it when we cook it on our chargrill, to the resting and lick of garlic butter before serving it.

Can you share any stories or feedback from your Hereford Prime diners as to why they enjoy the product and your dish?

It's a consistency thing, we have a good selection of local customers and every time they come and have a steak, they know that it's going to be as good as the last one they had, and that is a very important part of why we use Hereford Prime beef.

As a chef/restaurateur what is your favourite Hereford Prime cut and why?

It has to be a 400g rib eye, cooked medium rare and left to rest for as long as possible. The marble of fat in a rib eye is what makes it so good, as well as it's big, bold, rich flavour of beef with the right amount of salt and pepper and nothing else. It doesn't get any better than that.

What is your favourite sub-primal (secondary) cut and why?

It's got to be a big piece of juicy rump. It's looked down upon by so many people who think rump is just tough and chewy and a poor man's cut when it just isn't. To me it's the warrior/trooper cut of beef – it does all the hard work, and when cooked right and allowed to rest, rump packs so much flavour and for me it's a winner.

How do you personally enjoy your Hereford Prime cooked and served with what?

For most cuts such as rib eye or rump no more than medium-rare, with something like a fillet more on the rare side, just simple-as with triple-cooked steak fries, and some good quality Café de Paris butter or some decent seeded mustard makes a good plate of food for me.

Do you have any words of advice/tips for the home cook wanting to impress with a Hereford Prime dish?

I have three tips.

1) Seasoning, but keep it simple with only salt and pepper; don't be shy with salt and pepper on red meat though, it loves it!
2) Hot pan and a good crust; cast iron is a go-to for me at home, a nice heavy-bottomed pan that keeps the heat and sears that crust on.
3) Rest! Rest! Rest! The longer you rest your steak the juicy and more delicious it will be. I like to rest it for twice as long as I cook it.




[ Return to main page ]