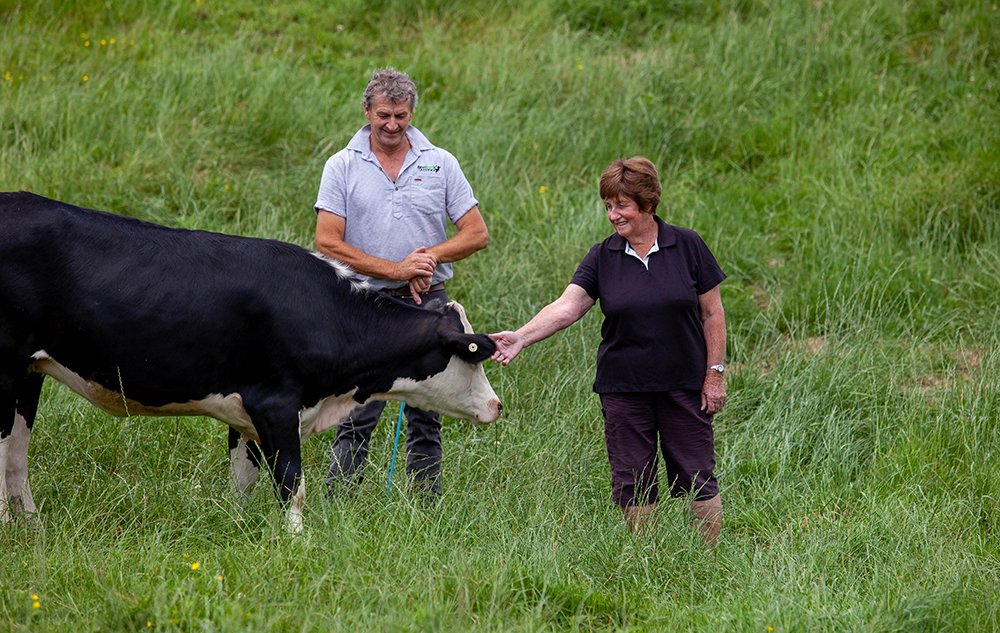 Hereford Prime finisher Lyn Comins, pictured with son-in-law and stock agent, Stephen Weck,
loves the quietness of her first-cross Hereford heifers.
First-cross Herefords are the preference for Te Awamutu Hereford Prime finisher Lyn Comins, who has been loyally supplying the programme for more than a decade.
Lyn farms a finishing block southeast of Te Awamutu and finishes 85 Hereford Friesian-cross heifers each year, with most being put into the Hereford Prime programme at Magills Artisan Butchery.
She says supplying Magills means she can supply a local business that produces a great product with cattle she enjoys farming.
"I've always enjoyed Herefords. We used to own a dairy farm and we ran Hereford bulls over the cows and reared the calves.
"Herefords are very quiet and we have no problems with them. I've always loved them and they're also beautiful to look at out in the paddock."
Lyn, with husband Graeme, chooses to finish heifers because she finds them easy to handle and placid.
"The cattle are my project and Graeme helps me out with chores and tractor driving."
Independent stock agent Stephen Weck sources the heifers for Lyn.
Stephen has decades of experience, in particular sourcing weaner heifers for finishing.
He says he likes to know a bit of the history of the herd the calves are from, and he also helps source Hereford bulls for many of the herds to use over their cows, so he's familiar with the sire genetics as well.
"I try and select the best bulls I can for the herds I buy weaners from. The calves come from good bulls and good cow herds. I'm also selective in the weaners I choose for finishing."
Stephen, who owns Stephen Weck Livestock, says he looks for structurally sound calves, with a good frame and well-marked calves.
"I have regular farmers I buy weaners from, and those calves come from very good, well-established herds."
The heifers are purchased as weaners, arriving on the Comins' property in late spring, with most being carried through for finishing and supplying to Magills for Hereford Prime.
Stephen also happens to be Lyn's son-in-law and he introduced her to Magills and supplying the programme. He says that came about after he went to buy some meat from the Magills Te Awamutu store – he and Magills' owner Mike van der Hoeven got on well and the supply of heifers for Hereford Prime developed from there.
"I pride myself on what I do and know how to pick a good heifer and I like to supply quality animals for the programme."
Lyn agrees and says supplying Magills is easy. "We like to supply Magills, they are good to deal with and they produce great beef."
The key to successful finishing is keeping the cattle well fed, says Lyn. Her heifers are finished on grass and receive homegrown high-quality silage during winter to top them up.
"We make a lot of wrapped silage on-farm, and they get that throughout winter. The heifers are fully fed all the time on grass and silage – there's no other feed bought in."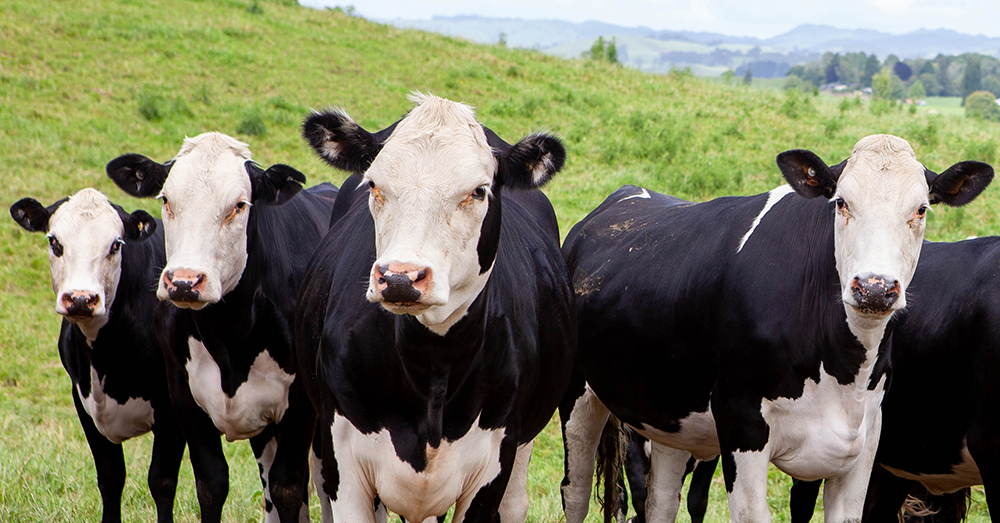 Lyn's heifers are finished on grass and are topped up with homegrown silage during winter.
Last year Lyn also grew 2ha of lucerne, which is baled and fed out too.
"It's cut every 30 days and we get four or five cuts from it," she says.
About 250 bales of silage and lucerne are made each year.
"There's pride in being part of supplying a product of real quality."
Lyn also says not being over-stocked helps as it reduces stress and pressure on the animals.
"We had a home-kill butcher visit and do a beast for us, and he commented how beautiful the animals and beef looked."
Lyn's finishing technique of balanced stocking rates and feeding the cattle well has also seen her help Magills reach the 2010 Beef and Lamb NZ Steak of Origin Finals, a competition that identified the best steak in the country. Lyn's supplied sirloin was a finalist in the Best of Brand Retail class for Magills.
First-cross Herefords are the preference
on this Te Awamutu property.

Lyn and Stephen drafting some first-cross
Herefords destined for Magills.
Stephen said it was a buzz to be part of that success. "There's pride in being part of supplying a product of real quality."
Lyn agrees with Stephen, saying she was thrilled to be part of that award. "It was amazing and goes to show if you look after and feed your cattle well, they do well."
She is targeting 250kgCW for Magills Hereford Prime, which means the heifers need to be well forward and weigh more than 500kgLW.
The 40ha block is rolling to flat country with a couple of steep gullies. The Maeroa ash soil is light, free draining and quite fertile. Lyn doesn't take soil health for granted. Mike Munro from TerraCare conducts soil tests every couple of years, with fertiliser applied as needed. 2021 was the first application made in about four years and she applied 250kg/ha of TerraCare rePlenish.
Lyn spreads chicken and duck litter sourced from Morrinsville to complement the fertiliser applications.
"We compost the litter before applying it to the farm. It has tremendous worm activity and is a deep, dark colour; it's a wonderful product."
Pasture renewal is carried out when Lyn can see the pastures opening up and thinning out. New pastures are a mix of ryegrass and clover.
After growing up on a dairy farm and working in the industry for most of her life, Lyn keeps careful rainfall records and says there's been a noticeable reduction in annual rainfall, with 1165mm in 2020 (she expects 2021 to be similar), a total well down on 2016/2017 when 1500 to 1700mm was recorded.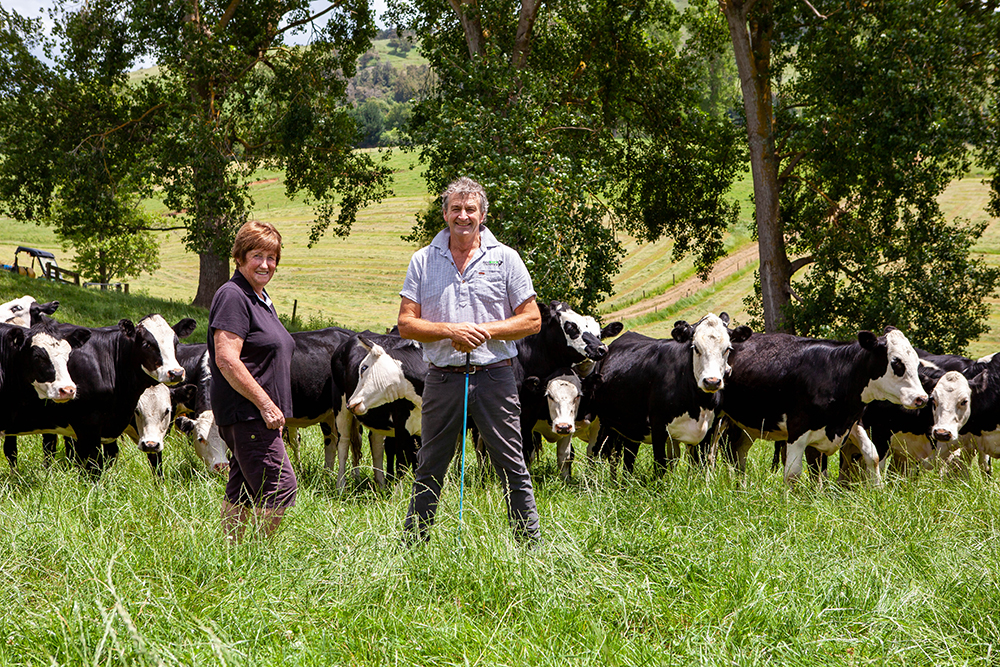 Lyn and Stephen have been loyally supplying the Hereford Prime programme for more than a decade.

The Comins have converted the property from a dairy farm to a finishing unit. Waterways and drains are fenced, and the old milking shed has been converted to covered cattle yards, which Lyn says she enjoys working in.

The Comins family is well known in the area, with their two sons, Ian and Bryan, running a family rural contracting business, Comins Contracting.

The business employs three full-time staff as well as three part-timers during the busy season. The business runs two loader wagons, two balers, two diggers, double and triple tractor mowers, and they also work in with John Austin Ltd carting maize silage. Lyn does the bookwork for the contracting business and Graeme helps out with machinery work as needed.

Carmen and Kelly, who are married to Ian and Bryan respectively, each milk about 100 cows on their respective dairy farms. Lyn and Graeme's daughter Jo (who is Stephen's partner), works as a kitchen designer in Te Awamutu.

Written by: Natalie Campbell, Photos: Kelly Comins




[ Return to main page ]