Hereford Prime celebrating 25yrs in the beef industry
JUST OVER 25 YEARS AGO, the landscape of New Zealand's domestic table beef industry changed for the better as Hereford Prime New Zealand officially became a limited liability company and signed off its constitution.
The development of New Zealand's original branded beef programme was the brainchild of Hereford breeder, the late Don Goodall, principal of the Braxton stud, who was growing increasingly frustrated with being served inconsistent and tough steaks when he dined out.
He took it upon himself to change the fortunes of the long-suffering palates of Kiwi diners and set about investigating what makes a great steak. He surrounded himself with likeminded Hereford breeders, including current Hereford Prime chairman, Laurie Paterson of Waikaka Herefords, Gore.
Laurie recalls they spent a lot of time in the chiller working to refine the quality standards that are still used today.
"We knew we were going to have some specifications, but we didn't know what they were going to be."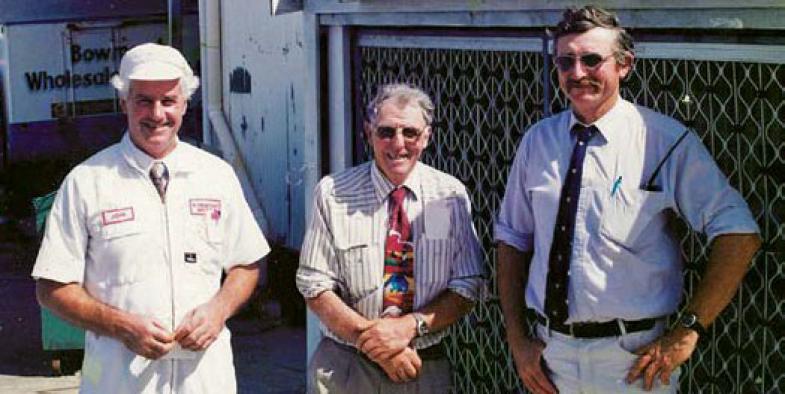 The evolving face of the Hereford Prime brand throughout its 25 years in the domestic beef marketplace. From left, John Flynn of Bowmont Wholesale Meats at one of the very first meetings with Hereford Prime instigator, the late Don Goodall, and Laurie Paterson.
To formulate criteria that were going to provide Kiwi diners with a consistent beef product, they spent a day a week for six months in the chiller, developing and testing quality parameters for carcass measurements.
"I'd never been in a chiller before then, Don had, and we were lucky, John Flynn from Bowmonts shared his expertise with us."
Bowmont Wholesale Meats was the first processing partner to work with Hereford Prime, getting on board from the get-go – even before the constitution was written and signed.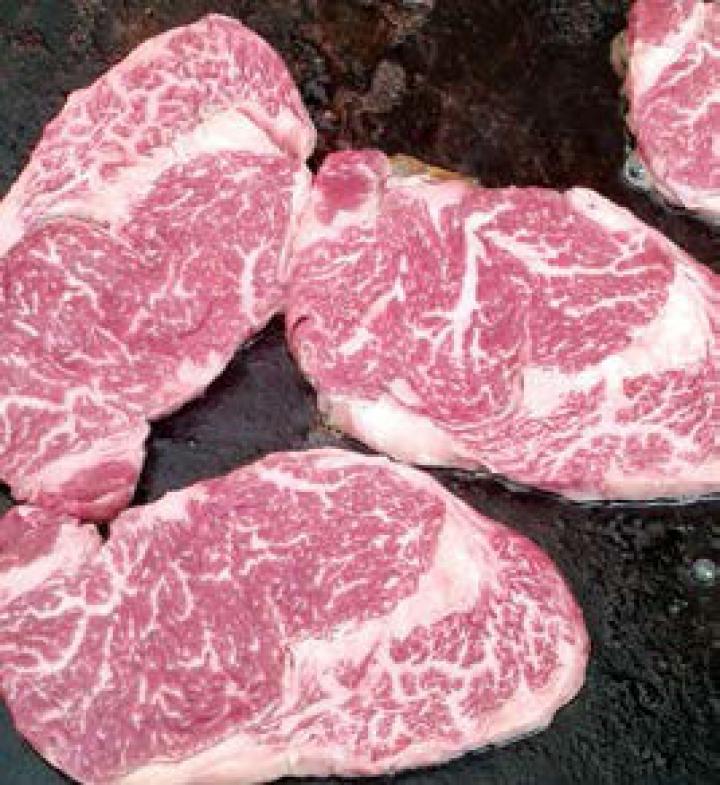 The days of grass fed beef not providing adequate marbled product are gone, with Hereford Prime helping keep beef farmers up with the demands of discerning customers
John Flynn from Bowmont Wholesale Meats says to reach 25 years in an industry he describes as "difficult" is a wonderful effort and achievement.
"Hereford Prime is a wonderful concept and product – we wouldn't be doing it if it wasn't."
He says there is no denying the meat industry is difficult, and for the brand to have operated this long is a testament to the passion of those involved.
He says it's been a good partnership between Bowmonts and the brand, and he's enjoyed the association over the years. Son Stephen is now at the helm of the business – the third generation of the Flynn family in the butchery trade.
"I can recall them (Don and Laurie) walking into the factory for the very first time. I hadn't met Laurie or Don before that. They came to see me with the goal of putting a top beef product out on a consistent basis.
"They were very passionate about what they were doing and we knew we could support that," recalls John.
He knew aging could have an influence on the quality and they (Don and Laurie) came along and said if they all worked together – from the farmer, to the transport, to the abattoir, and age it for three weeks, it should be a great final product. That concept and development was ahead of its time in bringing together parties from the entire beef supply chain to work together for a high quality consistent product. That foresight extended to the impact delivering the Hereford Prime brand would have on the cattle industry too.
Laurie recently found a letter written by Don that he sent to then head of PGG Wrightson, Barry Brook, outlining the goal of Hereford Prime. It read: 'I firmly believe that from the embryo that is Hereford Prime NZ, exists an opportunity which, in the long term, can pull together at least the majority of the quality bred British-bred cattle producers in NZ and reward them with a more profitable industry, and the consumer with a quality product they will be prepared to pay for'.

Bowmont Wholesale Meats undertake dry aging of some Hereford Prime cuts. Dry aging has become a much more common practice in the beef industry lately
"I reckon the brand has achieved that goal of Don's," says Laurie.
Once the quality specs were nailed down, then Don and Laurie began working with Invercargill chef Graham Hawkes. Graham had considerable involvement with the brand, particularly in the early days, and he brought a raft of expertise to the table. Laurie says he's incredibly well connected and it was always a marvel to him how many people Graham knew as they travelled on Hereford Prime business. Graham sits on the executive of the NZ Chefs Association, owns Paddington Arms in Invercargill, and is a consulting chef for Beef + Lamb New Zealand Inc.
"Initially I set up a meeting and drove down to see Graham, having never met him before. But he wasn't there, so I told the staff that I'd leave the Hereford Prime samples for him, thinking I'll never hear back. But within a couple of hours the phone rang and it was Hawksy. He said it was really good product and he had been wanting to use locally sourced beef."
Hereford Prime employed Graham for a time and he also happened to be a consulting chef for Beef + Lamb NZ at the same time. Laurie recalls Graham using the basic quality criteria that had been developed by Hereford Prime to assist with the formulation and adoption of the quality mark at the same time.
"We're quite proud of the fact Hereford Prime was instrumental in that development of the Qualmark and we still have a great relationship with Hawksy."
Relationships are an area Laurie, as chairman, takes particular pride in. "We have worked with a lot of people over the years and we are on good terms with all of them. Those relationships are important to us and we do take pride in them," he says.
Magills Artisan Butchery in Te Awamutu partnered with the brand a couple of years after Bowmonts. Owner-operator Mike Van Der Hoeven says the Hereford Prime relationship began as a joint venture with Heather Robertson, Heron Creek, and late Hereford Prime director Jan Wills. After discussions with Jan and Heather, a visit to Bowmonts was arranged, and after that Magills were on board.
"Dad had always processed white face cattle prior to working with Hereford Prime, so it wasn't a hard change for us to make," says Mike. Mike, who is the second generation of his family in the business and is currently working with the third generation, says offering Hereford Prime to their retail and food service customers means they have a premium product to offer. But having that premium product hasn't stopped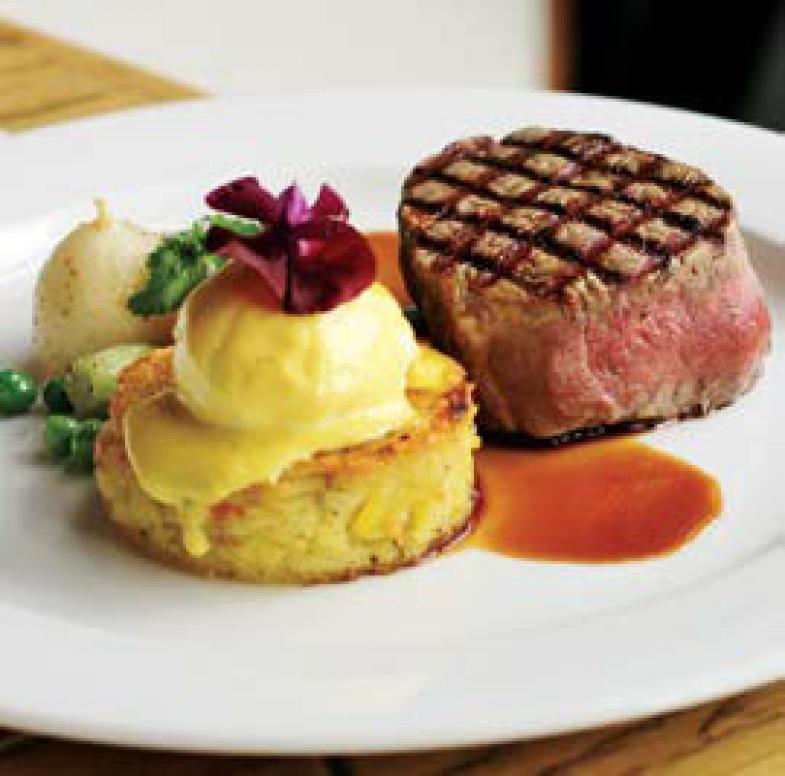 Art on a plate – a Hereford Prime dish
Mike from investing in business growth and development. Innovation has been at the forefront of the Magills business, and in particular finding new ways to develop the sub-primal cuts.
"That's been a major winner for us and we were backed and supported by Hereford Prime in this innovation."
Of particular note has been the success with the Slow Cooked Pulled Hereford (Prime) Beef that Magills developed – from the cuts used to the machine that was designed to pull the beef in the bag for product integrity.
The pulled beef went on to win the supreme award at the NZ Food Awards in 2015 (see the sidebar for more details) and is now available at selected retailers throughout the country, along with the other range of pulled meats that has also been developed.
Mike says he finds Hereford beef to be a lighter colour meat with a finer grain, which he believes gives it an advantage over other beef breeds.
Chairman Laurie Paterson says it's hard to believe it's been 25 years since the brand's constitution was officially signed off on the 4th August, 1994.
"We started out with a model and we've stuck with it and it's still working – that's satisfying.
"There's also the fact a lot of people really like our product," he says.
"When I look back 25 years – there was bloody ordinary beef available back then. It's good to see it's changed. There's been a culture change and the meat industry has become more professional."
Laurie attributes a good slice of the brand's success to its partnerships with family owned businesses, like Bowmonts, Magills, and more recently Cabernet Foods.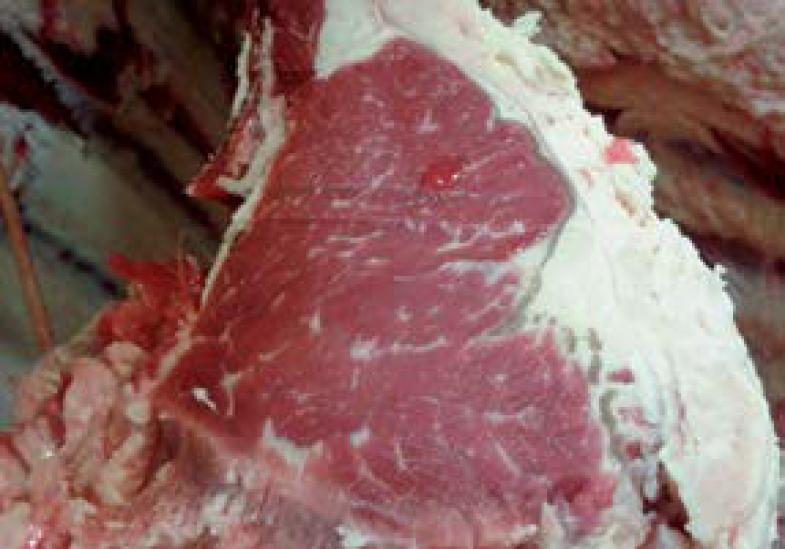 Every Hereford Prime carcass is individually hand-tested to ensure quality criteria are met. Those measurements and tests are undertaken between the 11th and 12th rib under a bright white light 20 mins after quartering.
Those three partners are all run by generations of families who have been in the meat industry for years, and we feel being able work closely with the smaller family owned businesses allows for strong working relationships.
"As a board we are impressed by the care, expertise and craftsmanship our partners invest and commit in our product – we wouldn't be where we are today without them.
"We're also lucky to have regular and loyal farmer suppliers and we've had very passionate board members over the years too – thank you to them for their contributions," says Laurie.
He says the board has also enjoyed working with some larger partners. These relationships offer another dynamic to the brand in terms of furthering market opportunities.
"One day, we'd like to explore an export market and that's an option that the bigger partners can bring to the table, along with the ability to balance the carcass more readily."
Laurie says balancing the carcass is a challenge for anyone in the meat industry. There is always high demand for the steak cuts, which make up about 10 to 15% of the carcass, but it still leaves a lot of product that needs further processing or adding value to.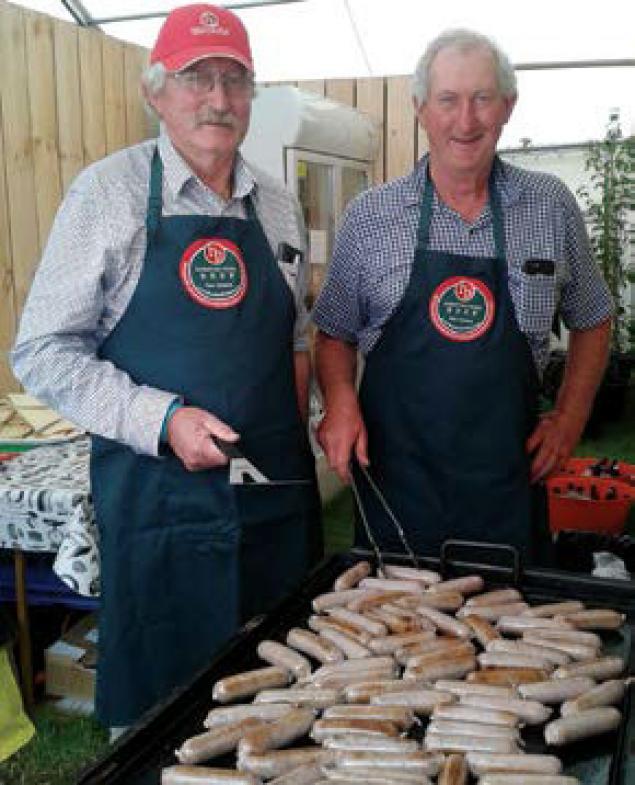 Chairman Laurie Paterson, left, and Hereford Prime director Chris Douglas, are just two of the board of the brand who are very hands-on with promoting the product. A hands-on and can-do attitude has been a trait of the brand since its inception, when directors would cart samples around the country sharing the product with chefs.
In the years since the brand was launched at the Royal Show in Invercargill in 1995, it has forged a determined path to improve table beef available throughout New Zealand. Other beef breeds have followed suit and several other Hereford branded beef programmes have also been launched domestically. Not all have lasted as long as Hereford Prime, nor received the accolades the brand has quietly notched up.
Laurie, who has been chairman of the board for the past 19 years, says in the early days of the brand he, Don, and later David Morrow, Okawa Herefords, Ashburton, could be seen carrying chilly bins full of product around, delivering samples to chefs to try.
The brand was officially launched following a lot of positive product feedback and Laurie recalls between them and Hawksy it was decided there was a need for a product launch. That launch came a few years after the product had been available in the marketplace.
"The Royal Show was only hosted in Invercargill once every five years, so we took that opportunity at the time," says Laurie.
"Graham was running the CRT (now Farmlands) restaurant marquee at the Royal Show, so we took that opportunity to put Hereford Prime on the menu and promote the product at the show and in newspapers. We handed out leaflets around the event and were talking to people about it and it went ballistic."
The cherry on the top of the launch was Don Goodall leading sire Braxton Dynasty into the marquee and tying him up in there, just after the sire won the prestigious Meat and Cup – supreme animal of the show.
"That event really sent us on our way," says Laurie.
Not long after the launch, Laurie travelled to Christchurch to introduce Cantabrians to Hereford Prime.
"I flew up to Christchurch with product from Bowmonts and David Morrow picked me up and we were headed to meet a chef when David's Holden stopped at the lights. We had to get out and push it to the side of the road. David sent me on my way by foot with the chilly bin in hand while he stayed and got the car fixed. He eventually turned up later in the day," recalls Laurie.
Laurie says the support of fellow Hereford breeders who have signed up to be members of the Hereford Prime Club over the past two years has given the board a vote of confidence to keep working to progress and grow the brand.
"The meat industry can be fraught with politics and at times we have to take our time and be careful in how we navigate issues, so to know we have the backing of the membership and NZHA is a huge benefit."
Hereford Prime Industry Honours
Striving for excellence in all areas of the supply chain has paid dividends for the Hereford Prime brand, with numerous honours achieved in Beef + Lamb New Zealand's Steak of Origin competition and also in the NZ Food Awards.
Some of the highlights for the brand include the consistency of the product being showcased by Bowmont Wholesale Meats in the Steak of Origin competition. Bowmonts were named finalists in the now-ceased competition for 10 of the 15 years the event was held.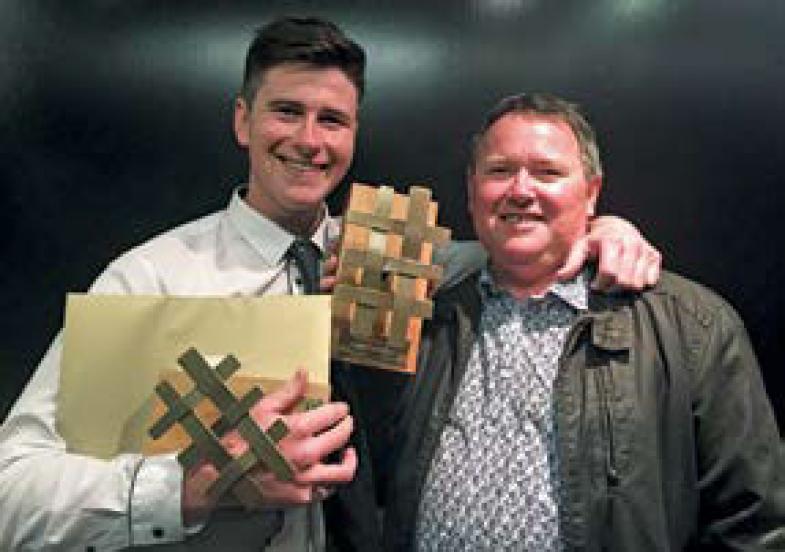 Ben and Mike Van Der Hoeven with the awards presented to them for Magills Slow Cooked Pulled Hereford Beef at the 2015 NZ Food Awards, where they won the Chilled/Short Shelf Life Award and took home the Supreme Award.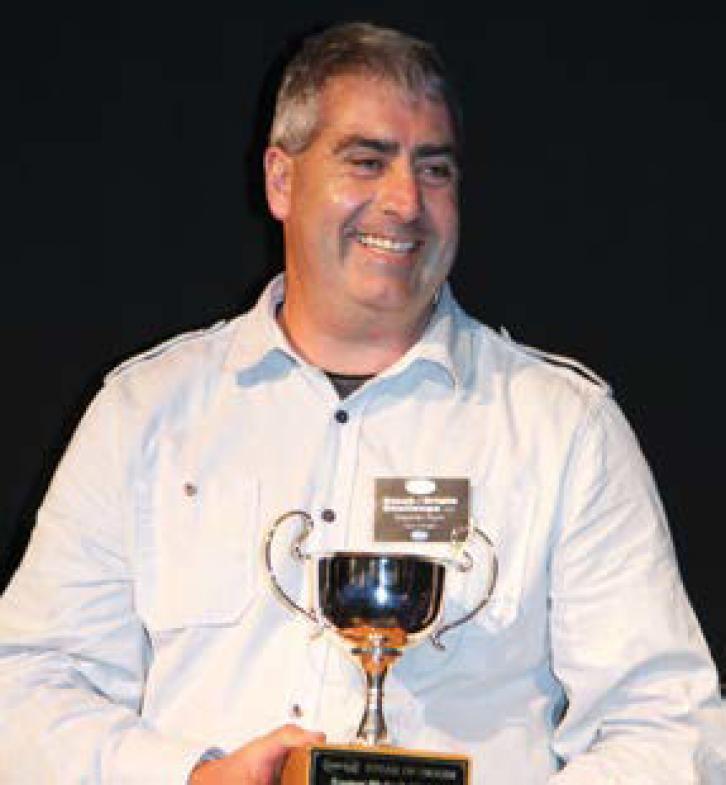 Third generation of the Flynn family from Bowmont Wholesale Meats in Invercargill with one of the 10 awards presented to the business as a result of Hereford Prime entries into the Steak of Origin competition.
That's quite an achievement and one the board is exceptionally proud of," says Laurie.
He also noted the success of Magills Artisan Butchery. Magills too were named finalists in the Steak of Origin on a regular basis, but also had significant success in 2015 in the NZ Food Awards. They won the Supreme NZ Food Award with their Slow Cooked Pulled Hereford Beef and were finalists in two categories of the competition that year. They were finalists in the MPI New Cultivars/Primary Producers Award and in the large manufacturers section in the Food HQ Chilled/Short Shelf Life Award. Magills won the short shelf life award before going on to be named Supreme Award Winners for the year. The Slow Cooked Pulled Hereford Beef ingredients list features 95% Hereford Prime grass fed beef.
In 2017 there was more NZ Food Awards success, this time for Cabernet Foods. The Carterton-based Hereford Prime partner won the Chilled/Short Shelf Life Award for their 30 day Everton Dry Aged Beef, which features Hereford Prime.
"We were thrilled for both Magills and Cabernet Foods in their successes in the NZ Food Awards," says Laurie.
Two Hereford Prime directors have also been recognised for their services to agriculture by being named on the Queen's Honours list. The late Jan Wills was made an Officer of the Order of Merit in 2015 and Laurie Paterson was made an Officer of the New Zealand Order of Merit in 2017. Both awards were presented for the tireless work they have contributed to New Zealand's beef industry on a voluntary basis.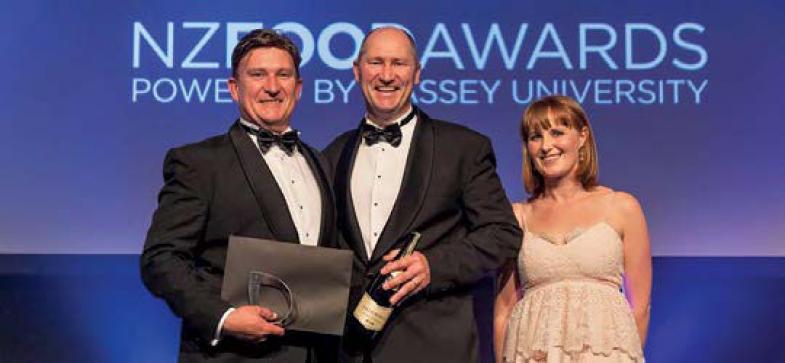 Brothers Brian, left, and Lyndon Everton, with their award for the Chilled Short Shelf Life Award. The award was for their 30 day Everton Dry Aged beef, which features Hereford Prime, and was won at the NZ Food Awards in 2017.

Words by Natalie Campbell. Photographs Natalie Campbell / supplied.




[ Return to main page ]