Hereford Prime was part of the Rabobank Paddock to Plate showcase at the 2016 National Fieldays and the only red meat product to be represented in the bank's marquee.
The Rabobank team this year decided to host a group of their clients to showcase their produce and products and joining Hereford Prime with Rabobank was: Turks Poultry Farm Ltd, Retro Organics, Bio Farm and Fashion Foods Ltd.
Chairman of Hereford Prime Laurie Paterson said it was a brilliant opportunity for Hereford Prime and it put the brand in front of commercial farmers and consumers who may not otherwise be exposed to the grass fed quality beef programme.
The Paddock to Plate showcase saw the selected Rabobank clients offer samples of their produce to invited guests and bank clients. Rabobank is the world's leading specialist food and agribusiness bank, Rabobank is one of New Zealand's largest rural lenders and a major provider of corporate and business banking services to the country's food and agribusiness sector. The bank also runs online retail savings and investments business RaboDirect.
Laurie said the feedback the Hereford Prime team received throughout the four day event was outstanding and he estimated the brand was exposed to thousands of people including commercial farmers and consumers.
The samples the HP team made available to try were the NZ Food Awards Supreme Award winner – Magills Slow Cooked Pulled Hereford Beef and pure Hereford Prime cocktail sausages.
NZHA tans-Tasman ambassador Gemma Dorotich of Gembrooke Herefords helped brand manager Natalie Campbell for the duration of the event and they were generously supported by past trans-Tasman ambassador Pip Robinson of Kokonga Herefords, Jane McDonald from Kairuru Herefords, past World Hereford Council secretary general Jan Wills, NZHA chairman Phil Barnett of Kaitoa Herefords and HP and NZHA director Colin Corney of Colraine Herefords.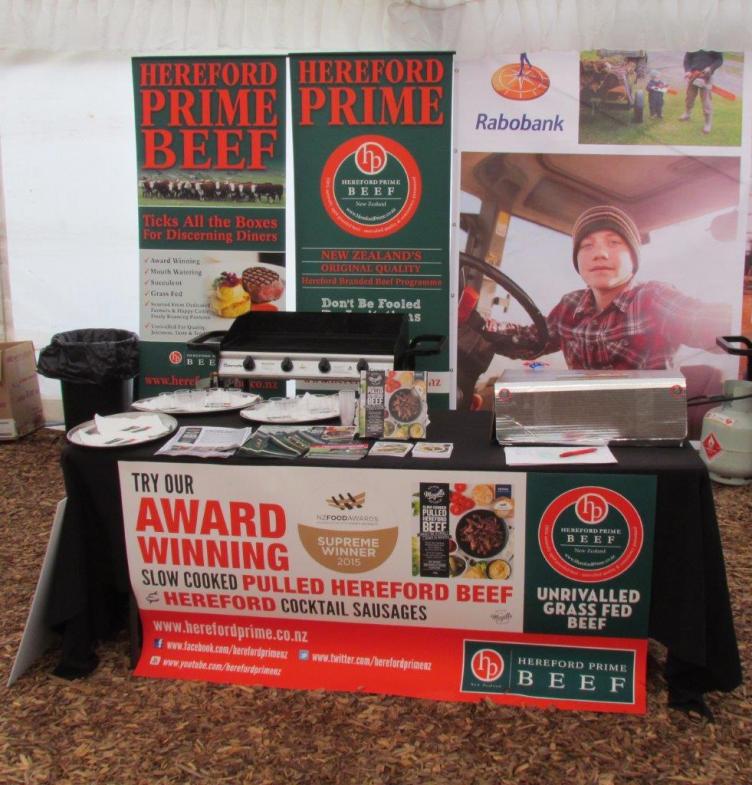 The Hereford Prime stand ready for action at the 2016 National Fieldays Rabobank Paddock to Plate showcase.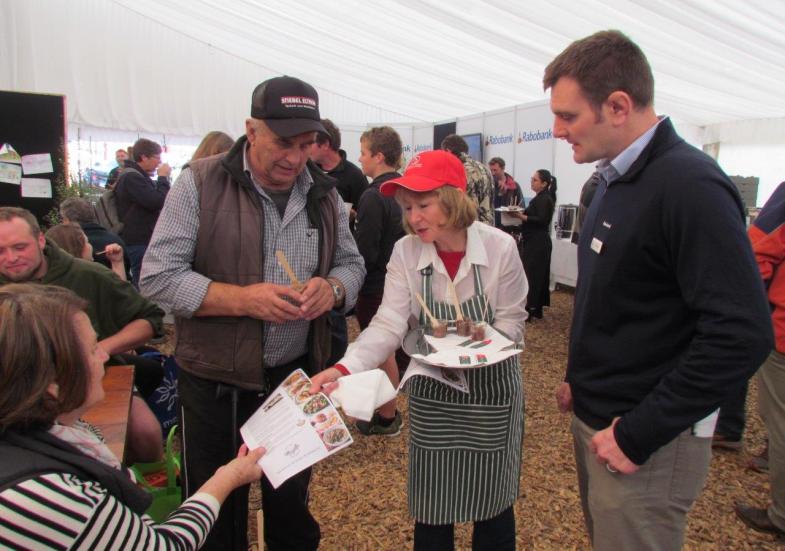 Jane McDonald from Kairuru Herefords shares the story of Magills Slow Cooked Pulled Herford Beef at Rabobank's Paddock to Plate showcase.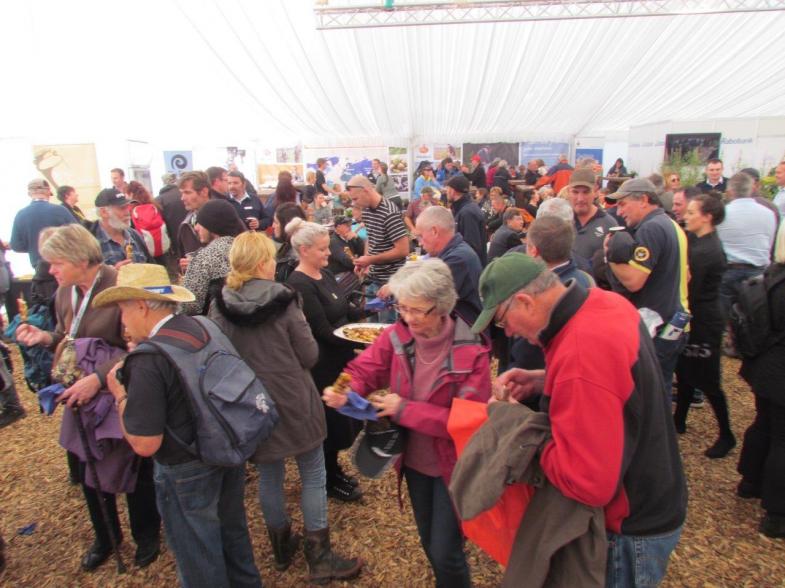 People flocked to the Rabobank marquee at National Fieldays to sample produce from some of the banks clients.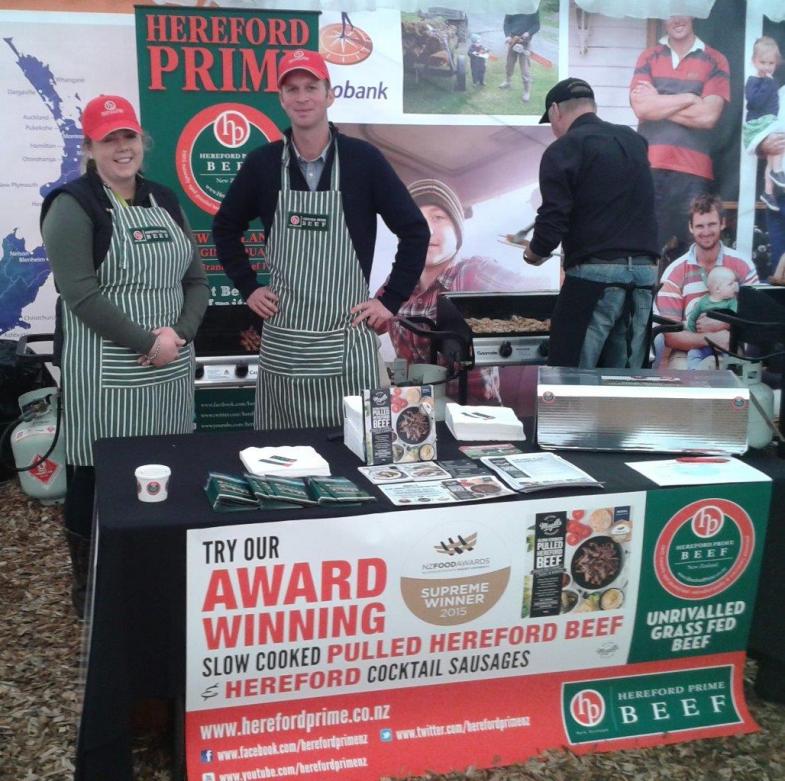 NZ Herefords trans-Tasman ambassadors Gemma Dorotich, left of Gembrooke Herefords and Pip Robinson from Kokonga Herefords ready to share Hereford Prime's grass fed beef story at National Fieldays.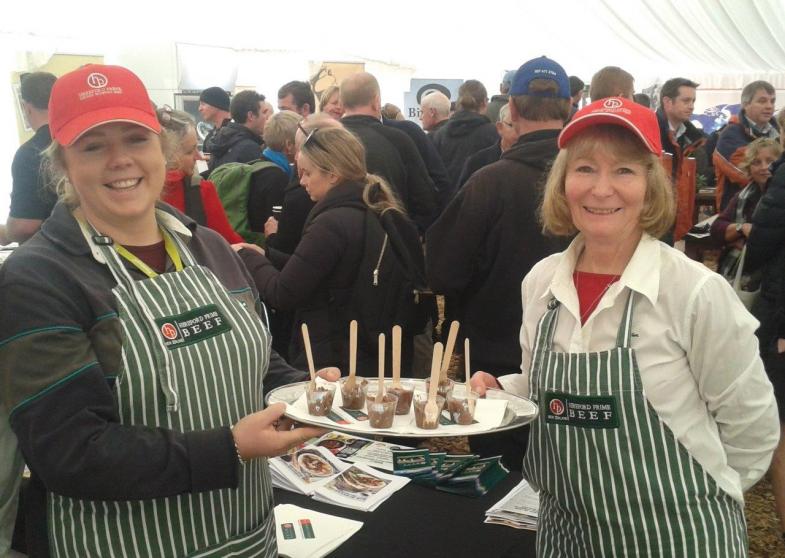 Gemma Dorotich, left and Jane McDonald with samples of Magills award winning Slow Cooked Pulled Hereford Prime beef.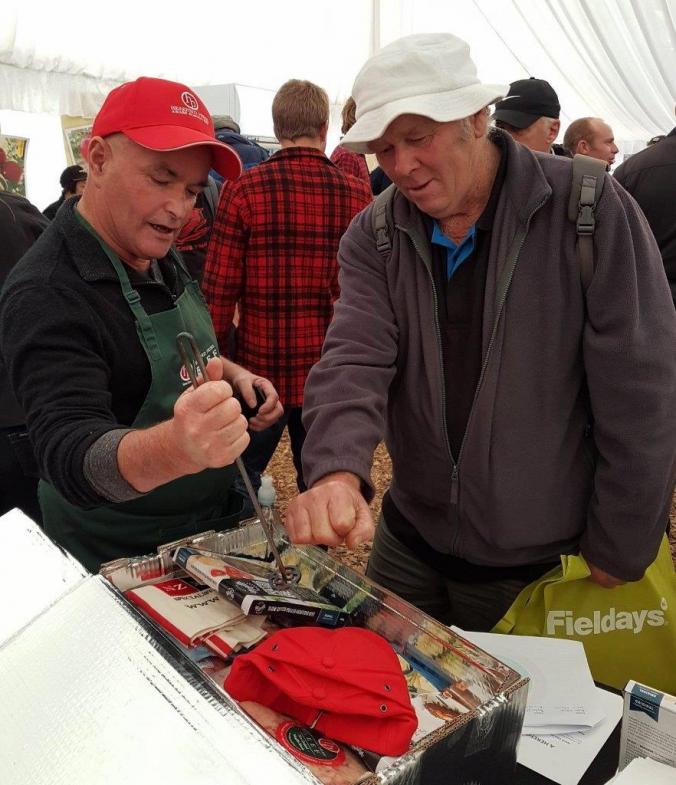 Hereford Prime director Colin Corney, left, demonstrates how the Hereford Prime steak branding iron works to a visit to Rabobank's marquee at the National Fieldays.




[ Return to main page ]