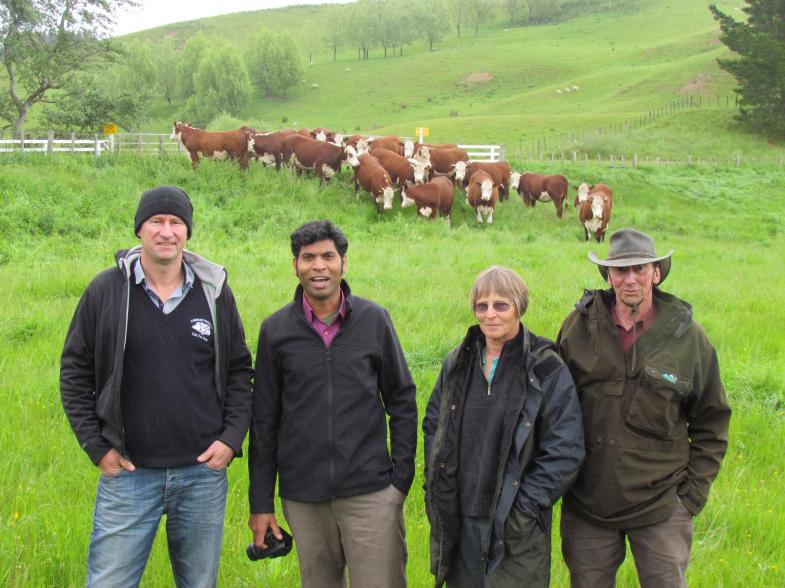 The key components in Hereford Prime's supply chain got together on farm recently pictured from left, Cabernet Foods managing director Lyndon Everton, St Georges Restaurant owner and chef Francky Godinho and Hereford breeders and finishers Mary and Martin Taylor.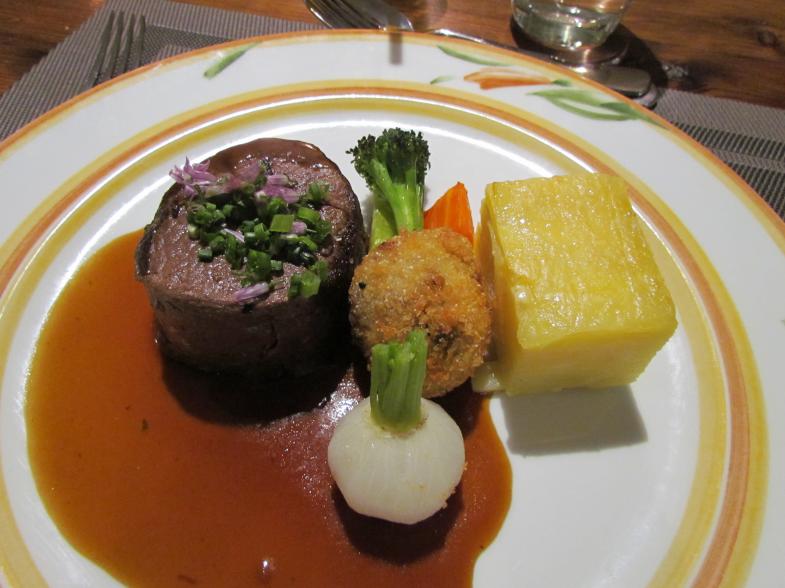 Stunning presentation of Hereford Prime eye fillet meant the meal was an artwork in itself. However the flavours
were balanced and ensured the beef was the hero of the dish.
Hereford Prime finishers Martin and Mary Taylor recently hosted an on-farm visit from processing partner Cabernet Foods Ltd and an award winning chef – a day that provided invaluable insight into the branded beef supply chain.
The Taylors are Hereford breeders and also dedicated and regular suppliers to the Hereford Prime branded beef programme.
The visit was hosted by the family on their Porangahau, Hawkes Bay property and gave Cabernet's managing director Lyndon Everton and Havelock North chef Francky Godinho the chance to see first-hand how cattle for the programme are farmed.
As a chef Francky is passionate about quality beef and he has identified Hereford beef as the most consistent in terms of quality in the market place. Having had a group of Hereford breeders in his restaurant at an earlier date he indicated to them, he'd like to visit a Hereford Prime farmer. It was an opportunity the HP team were keen to make a reality for Francky.
The day was about illustrating the Hereford Prime supply chain from pasture to plate and providing invaluable insight into the different aspects of the process.
On the tour of the 520ha effective Glenbrae property the group looked at cows with calves at foot running with the bull, a mob of bulls that will be offered for sale by the Taylors next year and steers ready for processing by Cabernet Foods for the Hereford Prime programme.
Lyndon was impressed with the docility of the Herefords and how content they were grazing the natural pastures of Glenbrae.
The Glenbrae business is home to stud Herefords and Wiltshire sheep along with trading stock. The 520ha property includes two blocks of land recently purchased by son Daniel which are run in conjunction with the home block.
Hereford Prime followed up the farm visit by extending an invitation to dinner at Francky's eatery, St Georges Restaurant in Havelock North, to all Hawkes Bay Club members.
The Hereford Prime beef served was provided by Cabernet Foods. Club members were encouraged to bring along bull buying clients who were interested in hearing the Hereford Prime story and potentially supplying eligible cattle along with any other service industry reps that could help share the brand story.
Guests were treated to dishes that showcased the natural flavours of Hereford Prime ensuring it was the hero of the dish. Guests enjoyed an entrée of slow cooked Hereford beef cheek with organic celeriac, pumpkin, handpicked herbs, crispy shallots and beef reduction. The main course was roasted Hereford Prime eye fillet and beef croquette, potato press, St Georges garden organic vegetables, chives and beef jus. The meal wrapped up with a dark chocolate peanut butter mousse, caramelized banana, chocolate soil and vanilla ice cream.
At 36 years old, Francky has had a stellar career to date and is dedicated and passionate about food. His expertise is reinforced by a collection of more than 40 medals and being named New Zealand chef of the year twice.
His career has seen him travel the world, but traditional values and sustainability lie behind his cooking philosophy. St Georges Restaurant boasts its own organic gardens and he grows as much of the restaurants' produce as he can. It's a sizeable garden with hundreds of different fruit and vegetables grown at a time.
Hereford Prime would like to extend their gratitude and thanks to the Taylor family for their time and efforts in making this event happen. The brand would also like to thank Lyndon Everton and the Cabernet Foods team for the job they do in carefully processing Hereford Prime beef. Thanks also to procuring agents Richard Williams and Tony Gallen for joining the evening and the Hawkes Bay Hereford Club for embracing the concept and supporting the meal with a great turn out of members and clients.



[ Return to main page ]