Jan Wills Honoured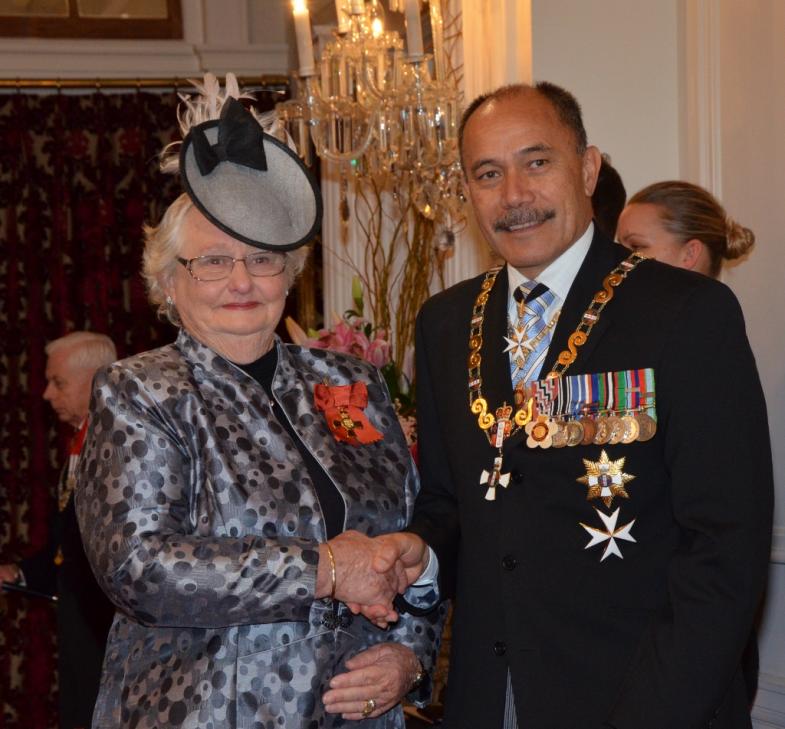 Pictured: Jan Wills, left with NZ Governor General Lt Gen The Rt Hon Sir Gerry Mateparae at an investiture ceremony in Wellington in recognition of her NZ Honour (awarded in the New Year) for services to the beef industry.
Hereford Prime director and Hereford breed stalwart, Jan Wills has been honoured for her extensive contribution to the beef industry at a ceremony at Government House in Wellington.
Jan received the Insignia of an Officer of the New Zealand Order of Merit at the ceremony recently - richly deserved recognition of her tireless dedication and voluntary service to the breed and wider industry.
Her dedication to the sector has included voluntary roles not just on the national stage but on the global stage too. Jan was elected World Hereford Council Secretary General for two terms (eight years). She spent 20 years serving as a councillor of the NZ Hereford Association, five years as a director of PBBnz (and was elected chair of both boards) and has been a director of Hereford Prime NZ for 21 years and counting.
The investiture ceremony attended by Jan and husband Barrie, daughter Lynley, granddaughters Phoebe and Sage and good friends Charlie and Margaret Lee, was a very formal occasion with Jan one of 25 others to receive recognition from New Zealand's Governor General Lt Gen The Rt Hon Sir Gerry Mateparae.
She said proceedings ran smoothly and given Jan was receiving an ONZM meant she was quite high up the order of presentations.
Jan said when being presented with her insignia by the Governor General she greeted him with "it's an honour to meet you sir."
He quietly told her she was an inspiration to women in agriculture and that she has provided a great role model.
As she turned to leave Sir Mateparae's side he leaned in and said "I do the talking around here."
Needless to say Jan, left thinking she had accidentally offended the Governor General.
Jan said following the ceremony she relayed the comment to Government House staff who, much to her relief, reassured her, it was the Governor Generals sense of humour at work.
The ceremony was followed by light refreshments and photo opportunities.
Jan admitted she had felt apprehensive about the ceremony but on reflection afterwards, said it was fun.
"It's something I'll never forget and we had the opportunity to have a look around Government House."
She said the staff were all very genuine and treated everyone wonderfully.
"It was a privilege to accept the honour on behalf of all those who have supported me in our endeavors on behalf of NZ Herefords. I have had a lot of support and could not have done it on my own. I've been very lucky to have the support that I've had from fellow NZHA councillors and the continued support of Hereford Prime directors."
It would be fair to say that one of Jan's main supporters has been husband Barrie. Without his unwavering support of Jan, the industry projects and roles she has undertaken the landscape of the Hereford community and beef sector might not be what it is today. Barrie we sincerely thank you for the support you've offered Jan.
Hereford Prime's directors, NZ Hereford councillors and friends would like to thank you Jan, for what you have done, along with your friendship and the hospitality you have shown to so many.
---
Citation
For Services To The Beef Industry

Mrs Jan Wills has contributed to the beef industry.

Mrs Wills was involved in her local Hereford breeders club before being elected to the council of the New Zealand Hereford Assocaition in 1992, the first woman to be elected to the council of a beef breed society. As President of the Association's council she led and developed the Young Breeders Youth Programme, promoted the breed including through the breed magazine she edited, helped to drive the award winning Hereford Prime quality beef programme and spearheaded a Hereford semen marketing programme into the dairy industry. She was director and then chair from 2003 to 2004 of Performance Beef Breeders. She became the first woman Secretary-General of the World Hereford Council in 2004 serving for two four-year terms until 2012. She was involved in contracting science groups internationally to carry out across-country breeding value estimations, and in developing a world genomic selection project. She ensured, through her ability to get NZ farmers and scientists to work together that New Zealand was the first country to adopt and use both of these programmes.




[ Return to main page ]