Capturing The Full Potential of the Whole Beef Rump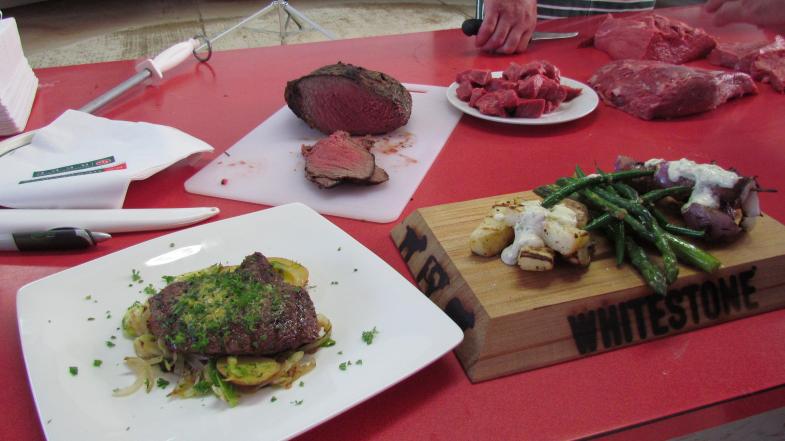 The dishes masterfully put together in a woolshed on a BBQ by Jax Hamilton using a seamed out Hereford Prime rump.
Front left: a Hereford Prime rump heart steak served with bashed spuds and sprouts with mustard butter,
front right: Hereford Prime Rump Kebabs with blue cheese and horseradish sauce and chunky seasoned chips with asparagus and beans and rear the whole roasted heart, sliced and cooked to perfection.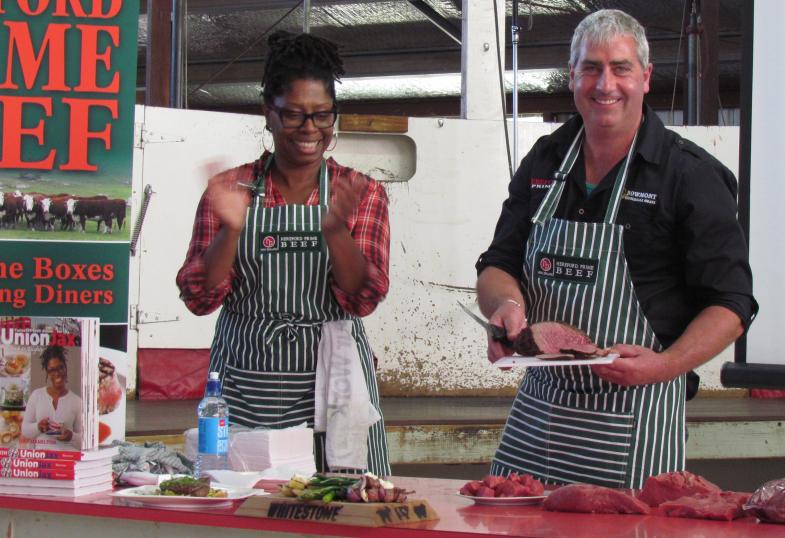 Stephen Flynn from Bowmont Wholesale Meats in Invercargill presents the perfectly roasted whole rump heart.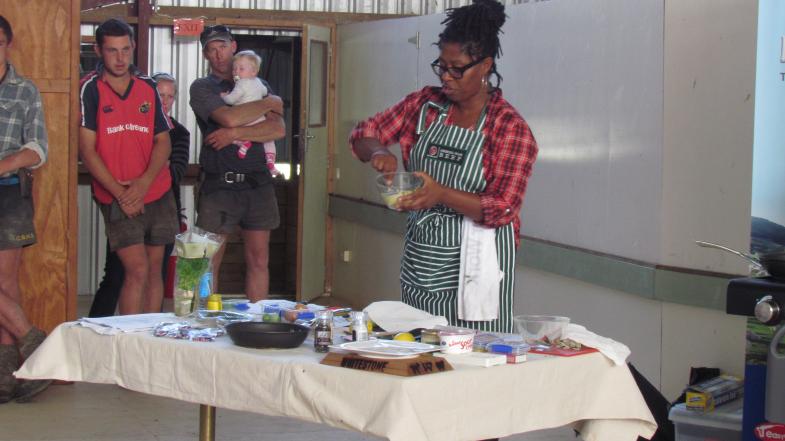 Jax Hamilton cooks up a storm in the Mendip Hills Station woolshed preparing three dishes from a seamed out Hereford Prime rump.

Hereford Prime took the opportunity to illustrate to people that attended the Mendip Hills Station Importance of the Beef Cow field day that enjoying beef doesn't have to be all about the high end steak cuts.

Bowmont Wholesales Meats Hereford Prime butcher Stephen Flynn demonstrated the skillful art of seaming out a whole rump. He was joined by Masterchef runner up and vibrant personality Jax Hamilton who then prepared the cuts into mouth-watering dishes.

Stephen says there are three main muscle groups in the rump – all that can be used successfully in their own right once seamed out correctly.

The cuts are the rump cap, the rump heart and rump tail.

Using a BBQ Jax chose to roast the whole cap and rest it before Stephen sliced it to present it cooked to perfection. Those who were lucky to sample it found it to be incredibly full of flavour, juicy and tender.

Stephen then diced up the heart for Jax to prepare kebabs which she did by loading onion and rump heart cubes onto long springs of Rosemary before cooking on the BBQ hot plate. The kebabs were presented with a blue cheese and horseradish sauce with chunky seasoned chips.

She again chose to use the rump heart and sliced it into steaks. This was cooked rare and accopnaied by bashed spuds and sprouts with mustard butter.

Jax told the crowd of nearly 200 that if they didn't already like sprouts they would after preparing them like this.

She went on to add it's vital to always cook Hereford Prime beef from room temperature.

"I always get mine out of the fridge at least an hour before I need it."

Of Hereford Prime beef she said: "it's great product with superb flavour."

"I'm basically doing meat and two veg but I'm going to add a bit of flavour to it because the beef itself is so supreme and so beautiful you don't need to do much with it."

The tail of the rump wasn't cooked by Jax but it would typically be roasted whole.

At the end of the demonstration Stephen was flooded with farmers who wanted to see him seam it out again and ask about the techniques.




[ Return to main page ]