Hereford Prime reigns the Best of British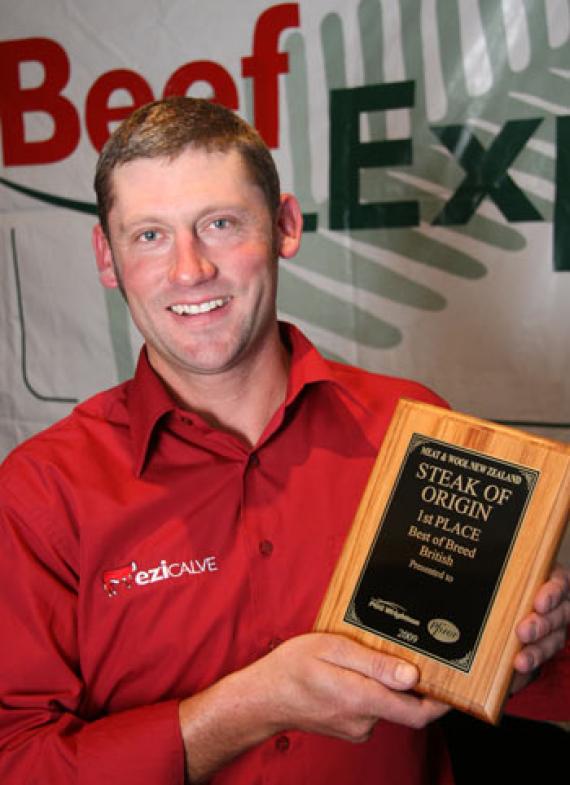 WINNER: William Morrison with the Steak of Origin
Best of British trophy 2009

One of the most sought after titles at the Steak of Origin competition, the Best of British, was taken out by a pure-bred Hereford entry.
The winning Ezicalve Hereford entry was put forward by the Ardo Hereford stud, Marton.
The Best of British class finals was heavily contended by the breed with three of the four finalist sirloin steaks from the breed. Rob and Mary-Ann Burrows of Beechwood, Culverden joined the Morrison's in the finals with two sirloins that were placed third and fourth.
Jane Allan, Hereford Prime marketing manager says it was an outstanding result – especially having three-quarters of the class finalists being Hereford.
"The Best of British class is by far the biggest group for the Steak of Origin with total entries at more than 350 entries over the five classes."
There were about 147 entries in the Best of British class and about thirty of those entries were Herefords. Despite the fact Hereford entries were up in the overall competition this year in comparison to previous years the breed was still up against it from other breeds, making the success that more valued.
The Morrison family were also finalists in the Best of Crossbreed section with an Ezicalve Hereford cross.
"Hereford Prime has consistently been placed in the finals of Steak of Origin since its inception, recognising the consistency and unrivalled quality that is guaranteed," says Jane.
John Morrison says of the win "it proves Hereford Prime beef is as good as the best and that competition (SOO) showed it, not only with pure-bred carcases but also the cross-bred animals."
John says they have learned quite a bit from entering the Steak of Origin competition in recent years.
One of the lessons learnt is the fact that the entered animals should be young and quiet. He also believes on the rising plane of a nutritional cycle.
"Some times that can be difficult at that time of year, it's the end of summer and animals stress levels can be increasing," he says. However, he believes there are aspects farmers can have control over, such as the age and temperament of the animals to enhance the end result.
Lowering stress in animals can be undertaken by choosing quieter cattle, keeping them in their usual mobs and low stress yarding. The Morrison family put forward 11 entries in total – three of those were pure-bred Herefords, the balance in the cross-breed class.
They heavily contended the cross-bred class because if reflects the philosophy behind their breeding programme and their target market for bull sales.
John says he challenges any breeder to put forward animals for the Steak of Origin. However he says if they wish to do well, it does take time, consideration and he believes it is necessary to accept the fact there will be variations in the carcases. To cover that he suggests entering a range of animals.
FROM PASTURE TO PLATE
The Hereford Friesian cross is a diverse and sought after animal. Natalie Campbell explores the options from pasture to plate.

THE PROCUREMENT AGENT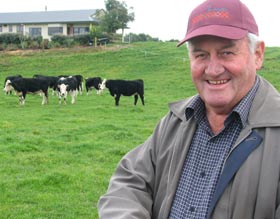 Livestock buyer Dave Whelan says identifying
the right cattle for the Hereford Prime branded
beef programme is like selecting fruit
– you don't want them over or under done.
Independent livestock buyer and agent Dave Whelan has more than 50 years experience which makes him well qualified when it comes to identifying the best animals for a branded beef programme.
Dave who operates out of the Waikato region has been linking finishers and cattle for the Hereford Prime progamme since it's inception in the early 1990s. Magills Meats in Te Awamutu is the North Island Hereford Prime distributor and Dave has been working with them since the 1970s.
Dave largely sources his finishing stock from a loyal base of farmers and sometimes the Frankton saleyards depending on supply and demand. He does also work with a couple of other agents who help source high quality Hereford and Hereford cross animals for the NZ Hereford Prime programme.
Dave has been a stock buyer his entire career and has developed an intuition for what makes a good carcase. It's a skill he has refined and developed and isn't something that is easily described. When asked he says it's all in the eye appraisal – his most valued tool.
His primary target is cattle with potential. "You can work it out if they will suit the finishing business," he says.
When selecting stock for clients Dave said he targets animals that will grow and provide a decent return to the finisher, animals to suit the property and the finishers' circumstances. A large proportion of his clients prefer yearlings or 15 month old cattle for a quicker turnaround. He is constantly in contact with his clients discussing feed levels, stock condition and purchasing numbers.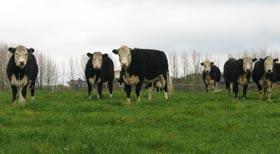 Quiet tempered animals do better for finishing
and the Hereford is renown for its docility.


He believes "a quiet animal will do better in the main" and are suited to today's small block holders as well as bigger properties. This makes the Hereford, renown for it's quiet temperament an ideal breed for finishing.
He says the best finishers are those that feed their cattle well. He says not overstocking the finishers is another aspect to keep in mind – if anything he prefers to maintain a slightly lower stocking rate than necessary as he feels this enhances stock performance.
Eye appraisal again comes to the fore when it's time to get the cattle away to the processor. For the Hereford Prime programme it is particularly important to submit the animals before becoming too fat.
"You don't want them underdone or overdone, it's like picking fruit," says Dave. But he acknowledges there has to be a certain amount of condition to get the quality right.
Heifers and steers are selected by Dave, although heifers are preferred as they arrive at a killable weight quicker than steers. Despite the fact steers take a bit longer to grow out their carcases grow to heavier weights. For example, he said heifers will kill out between 240-260kg CW and steers can grow to more than 300kg CW but would then be more suited to the export trade.
The ideal Hereford Prime carcase weight is 220-270kg with a P grade (fat coverage 3mm to 10mm). The pH levels, fat colour, meat colour and marbling are also taken into consideration for the branded beef programme. Dave feels the specifications promote the quality aspect of the Hereford Prime programme which is what makes it successful.
He says the Hereford Friesian cross is filling a large gap in the beef industry and the reality is, there are not enough pure-bred Herefords in the Waikato region to meet the demand.
When the carcase specifications for Hereford Prime were established, the NZ Hereford Assocation undertook extensive research and trials to compare Hereford versus Hereford Friesian cross carases and found the first cross didn't detract from the taste, tenderness or dining experience. Dave backed this up with recent kill sheets showing a mob of Hereford Friesian carcases that had been graded A for eye muscle.

THE FINISHER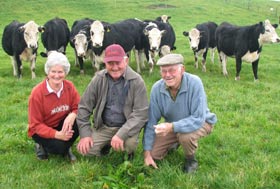 Dave Whelan and with Horotu beef
finishers Marie and Dick Draper
.
Dick and Marie Draper are beef finishers at Horotu and clients of Dave Whelan's. They have been finishing beef for 20 years and it was Dave who introduced them to supplying the Hereford Prime programme.
The Drapers, trading as Clairhill, have been exposed to many beef breeds over the years and like the Hereford influenced cattle the best because they are quiet and exhibit good growth rates.
They finish largely older cattle with Dave tending to match them to stock aged about 15 months old – targeting animals that won't take the Drapers long to finish. The couple turnover about 100 head annually on their 43ha property.
Dick says the margins for finishing for the Hereford Prime programme work well and he said the key is to buy and sell on the same schedule where possible - preventing losses. Cartage is also covered in the Hereford Prime programme.
The Drapers prefer to finish heifers because they grow out quickly and he and wife Marie prefer the white faced cattle because it allows easy identification and they are quiet animals to handle.

THE RESTAURANT

Hereford Prime beef has to meet strict conditions to be eligible for the programme, but they are specifications that are paying off for the product and the restaurants which serve it.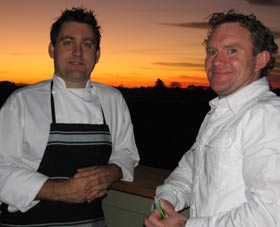 Matt Cooper, left and Calum Jamieson
established The Woodbox Winery Restaurant
and Bar overlooking the Waikato River and
surrounding farmland. Sunsets are a spectacular
feature of evening dining at the restaurant.
One of those restaurants is The Woodbox Winery Restaurant and Bar, at Mystery Creek near Hamilton.
Owned by Matt and Lisa Cooper and Calum and Charlotte Jamieson, The Woodbox has been open just 18 months and has featured on the Cuisine Restaurant of the Year list twice. The first year they were included in the top 100 restaurants and this year they are a finalist and appear on the list of the top 40 restaurants.
Hereford Prime features on The Woodbox menu which chief Matt describes as continually evolving. The menu changes seasonally but they also have their regular diners to keep happy too. He said each final menu item has been fully scrutinised before it is placed on the menu.
"All our dishes are there for a reason."
He said the Hereford Prime eye fillet is the only item that has been on the menu since they opened. Matt said the condiments and accompaniments served with the eye fillet have varied but the beef cut remains the same. He also said it is one of their most requested dishes.
Matt said from a chef's perspective Hereford Prime is very consistent.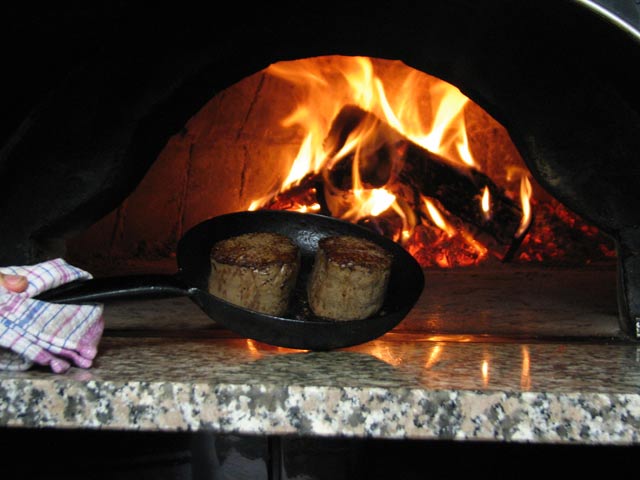 The seared Hereford Prime eye fillet as it enters the wood fired oven at The Woodbox.
FAMILY BUTCHER CARVES NICHE WITH HEREFORD PRIME
By Natalie Campbell

In a climate where the local butcher is facing a dramatic decline Bowmont Wholesale Meats in Invercargill is carving out a niche for itself.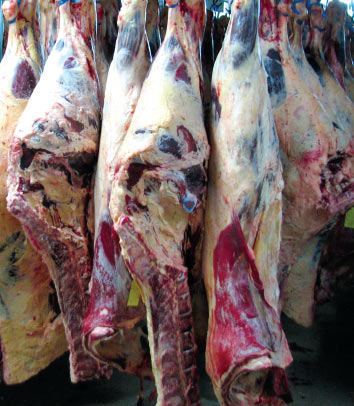 A technique called dry-aging is used to heighten tenderness
and flavour consistently throughout the cuts.
Run by the Flynn family, Bowmonts has processed and been a staunch supporter of Hereford Prime since the pilot scheme began in 1994.
The Flynn family have worked hard to develop their business relying on quality, consistency and honesty - contributing to the growth of their business in the face of growing competition from supermarket butcheries.
Over summer, deliveries are made fortnightly into tourist haven Milford Sound, where Hereford Prime is served on the boats cruising the picturesque sounds.
Several tonnes of Hereford Prime are delivered in there at a time and it's often an early start to beat the queues of buses and campervans though the historic Homer Tunnel.
A huge number of prestigious restaurants, bars, supermarkets, retirement homes and hotels also stock Bowmont produce which includes lamb, pork, poultry and manufactured small goods. They even have a foot in the door in Auckland. However freight costs curb the potential of expanding this market.
When Bowmont Wholesale Meats in Invercargill were offered the chance to be part of the development of Hereford Prime, they jumped at the opportunity. That's because quality and consistency are the philosophies on which their business laid its foundations on back in the 1930s when it was first established by Jack Flynn.
Son John took over in the 1950s and he and wife Judith are slowly reducing their input, leaving the business in the hands of the third generation – Stephen and wife Catriona, and Scott. Another son, John is working in Australia and daughter Angela lives in Alexandra. It's obvious quality and consistency are the fundamental keys to the business.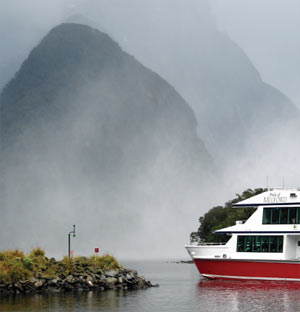 Hereford Prime is delivered into the Milford
Sound region and served on a number
of boats cruising the picturesque sounds.
The Bowmont motto is "where quality counts" and every piece of meat that leaves the factory is guaranteed. "Not that we get any complaints," says John Flynn smiling. But if a customer is unhappy they replace the purchase. Strict quality control guidelines are implemented and John is proud of the fact any cut of meat can be traced from the farmer to the plate. A stringent documentation process allows this to happen.
The quality control guidelines are obviously paying off as Bowmonts won the inaugural Steak of Origin best branded beef competition and have been a finalist every year they have entered. Hereford Prime is the only beef Bowmonts process. They joined the project after a visit in the early 1990s by the late Don Goodall, Laurie Paterson and Graham Hawke's to see if they were interested in developing the Hereford Prime product.
It was the quality and consistency of the then proposed brand that appealed to John. "We believe it's a good product and know it is consistent," says John. The factory size allows strict controls to be implemented, and quality and consistency are the main contributors to the growing clientele and reputation of Bowmont Wholesale Meats. John says they are tight on what happens in the factory and everything is documented.
"If you put out top quality products you will get the clients." The "Hereford Prime" brand is only placed on beef, which meet strict quality criteria of pH, meat and fat colour, rib eye area, quality and marbling. On average they process about 21 tonnes of beef a week. Peak processing and distribution is from November to April when up to 70 beef carcases pass through the factory doors each week.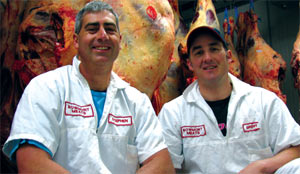 Stephen Flynn, left and foreman Brent Crossan, right,
in the dry ageing chiller. During dry ageing about 2%
moisture is drawn from the carcase which
prevents fluids pooling on the plate after cooking.
During winter and early spring the Bowmont factory processes between 25-40 beef carcases. The Flynn family can see potential for expansion of Hereford Prime markets in the South Island, but chiller capacity and an outlet for the sub-primal cuts is curbing that growth. The dry-ageing process has been implemented and sees carcases hung on the bone in a chiller to heighten tenderness and flavour consistently throughout the cuts.
During the process about 2% moisture is drawn from the carcase which prevents the pooling of bloody fluid on plates often noticeable after cooking lower quality cuts of meat. A large number of chefs supplied by Bowmonts request the dryaged Hereford Prime, simply because of the superior results. A vacuum fan draws moist air from the 1-2 degree chiller – it's a process that is closely monitored to ensure the beef is not over tenderised.
John says the trick is to ensure the meat still has a "nice bite" to it. "That's to do with temperature and time in the chiller," he says. The dry-ageing process has largely been employed on the hind quarters. The most sought-after cuts by restaurants are eye fillet, porterhouse, scotch fillet (cube roll) and rump.
The eye fillet, porterhouse and rump are all dry aged. At maximum capacity, the Bowmont dry-ageing chiller can hold about 250 hind quarters but with demand for the dry-aged beef growing John says they are investigating opportunities to expand chiller space. When a carcase arrives from the Invercargill Prime Range abattoir the hind quarter is removed and dry-aged for 2-3 weeks.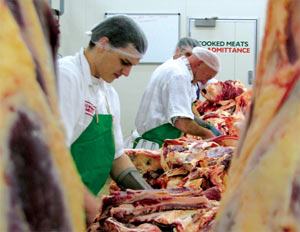 Strict quality control measures are enforced
in the factory of Bowmont Wholesale Meats
to ensure the quality of their products,
which include Hereford Prime.
The fore-quarter is boned out one week after arriving then vacuum packed and chilled. Vacuum packed beef will easily store for up to five weeks, however demand means the beef is being sold much sooner. Sub-primal cuts from the forequarters are sold into the prison systems, retirement homes and some supermarkets. John says there is a lot more potential for Hereford Prime beef to be tapped into – the key to that expansion is sourcing a market for the sub-primal cuts.
At current processing levels the Flynn family has outlets for the sub-primals, but an increase in carcases would be challenging. The business has experienced a lot of growth in the past few years and the Flynns are keen to capitalise on the potential of Hereford Prime. However, it hasn't always been straight forward.
In 2004, the business was left crippled by a fire, devastating the Flynn family and staff. John and Judith were woken by a phone call at 4am on December 6 2004 to say the factory was on fire. By 9am all the staff (and a number of their partners) and friends had arrived and not one had been told of the fire – testament to the respect the Flynn family are awarded by staff and the community.
When it was safe, 30 electricians were at the scene working frantically and the clean up began – which included discarding about $250,000 worth of meat. Just 48 hours later, on the Monday morning the site was inspected by the health department. John recalls the inspector couldn't believe what had been achieved. The plant was re-opened later that morning – not one customer was turned away and not a single order missed.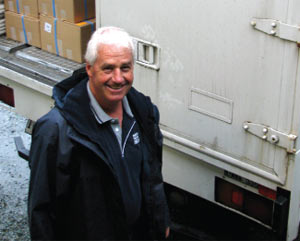 Hereford Prime is the only beef Bowmont Wholesale
Meats processes and John Flynn says it was
the quality and consistency of the brand
that appealed..
"One good thing from the fire was we were able to re-build a purpose- built factory."
Since the fire the factory floor has more than doubled in size from 860sqm to 1840sqm and staff numbers have grown from 25 to 38 in the past three years. Another four staff are employed in the family's hydroponic lettuce business, Drysdale Lettuces.
The future of Hereford Prime at Bowmont Wholesale Meats looks promising as the business is passed to the third generation – sons Stephen and Scott, ably assisted by foreman Brent Crossan.
HEREFORD PRIME THE BEST OF BRAND - RETAIL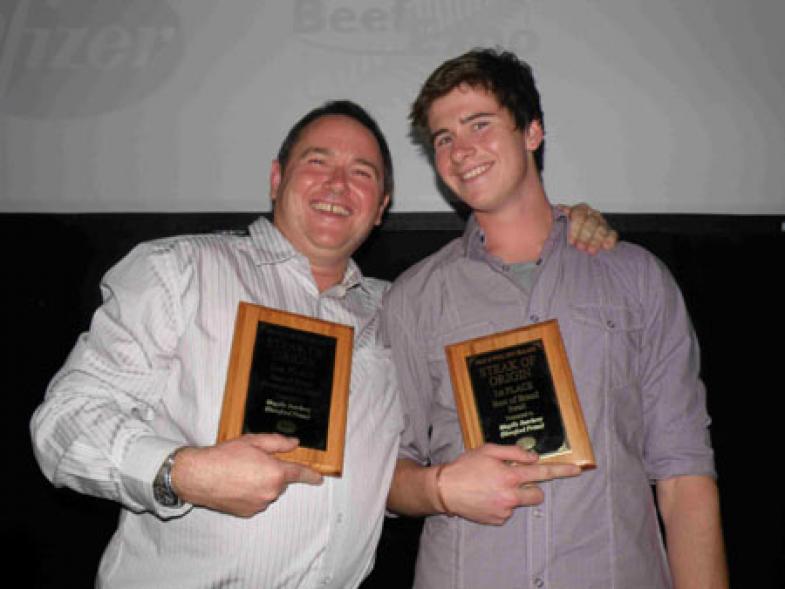 Winning smiles from Mike van der Hoeven, left and son Ben with their plaques
for winning Best of Brand (retail) with Hereford Prime and being awarded
second place in the Best of Crossbreed class with a Hereford-Wagyu cross
at the Steak of Origin.


Hereford Prime and Magills Butchery were awarded the Best of Brand (retail) at Steak of Origin 2010, continuing the success of Hereford Prime having been placed in the final every year the competition has been running.

Mike van der Hoeven, a registered Hereford breeder from Te Awamutu, also took second place in the cross breed class with a Hereford Wagyu cross. He bred the heifer entered, specifically with the intention of entering the competition.
The staff at Magills all contributed to the selection of the steaks entered in this Steak of Origin competition and a great deal of thought and effort went into the entries. The win is a great achievement and a credit to Mike and the Magills team.
The competition itself received just over 400 entries and Magills gained placings in two different sections of the competition. There were just under 80 Hereford entries in total, including entries from commercial farmers, making for a great success rate in the finals with finalists in three of the five classes.
The animal that the winning steak in the Best of Brand retail class was derived from was a 18-month-old Hereford Friesian cross heifer selected by Steve Weck from RD 1 Livestock and finished by G & L Comins at Graelyn Farms at Wharepapa, Te Awamutu.
Hereford Prime director Jan Wills said it was an exciting evening for Herford Prime and its directors and all Hereford members.
Chairman of Hereford Prime Laurie Paterson said the success in the retail class consolidated last year's win in the Best of British class.
"It reinforces the fact that Hereford Prime and Hereford derived beef is a high end product offering true consistency and unrivalled quality."
With just 20% of the competition entries and successfully being placed in the finals every year since the Steak of Origin began, speaks volumes about the quality of Hereford beef he said.
The Morrison family also few the Hereford flag with an entry in the Best of Breed British class. They were placed fourth with their Ezicalve Hereford entry.
With about 400 entries received in the Steak of Origin this year competition is heating up for the class titles and overall titles. The competition has been running for eight years and aims to find the most tender, tastiest sirloin steak in New Zealand. It is open to beef farmers, retailers, wholesalers and foodservice.
Olympic BMX rider Sarah Walker says she was thrilled to be a judge of the steaks in the finals.
"I'd never turn down a chance to eat the best steaks in the country! They all tasted brilliant; it was hard to select a winner," she says.
Sarah joined Richard Loe, Jamie McKay, Hester Guy and Graham Hawkes in the final round of judging held in conjunction with Beef Expo.
HEREFORD PRIME NAMED BEST BRANDED BEEF IN THE COUNTRY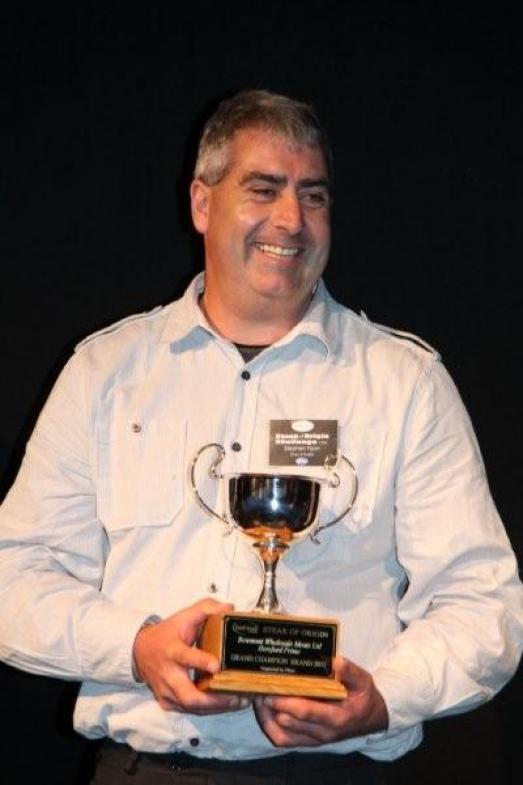 Stephen Flynn from Bowmont
Wholesale Meats
A Hereford Prime sirloin processed by Bowmont Wholesale Meats in Invercargill has been judged the best branded beef product in New Zealand at the highly contended Steak of Origin Awards.
Bowmonts were awarded first place in the Best of Brand – Retail class and then went on to take out top honours winning the title of Grand Champion - Brand.
Accepting the award at the ceremony, Stephen Flynn from Bowmonts said the award was recognition not just for them as the retailer and processor, but it also highlights the pride and effort Hereford breeders take in their cattle and product.
"This win reflects Hereford Prime's dedication to quality," said Stephen.
Hereford Prime chairman Laurie Paterson said "it's a tremendous win and we are extremely proud of Bowmont's achievements."
More details to follow very soon
Hereford Prime Teams Up With Sporting Legends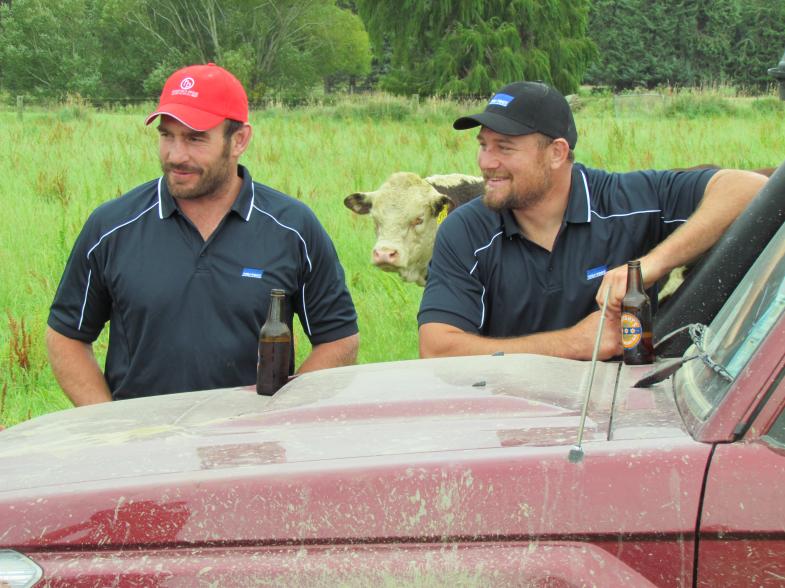 All Blacks and Highlanders rugby stars Andrew Hore, left and Tony Woodcock
on location for Hereford Prime recently.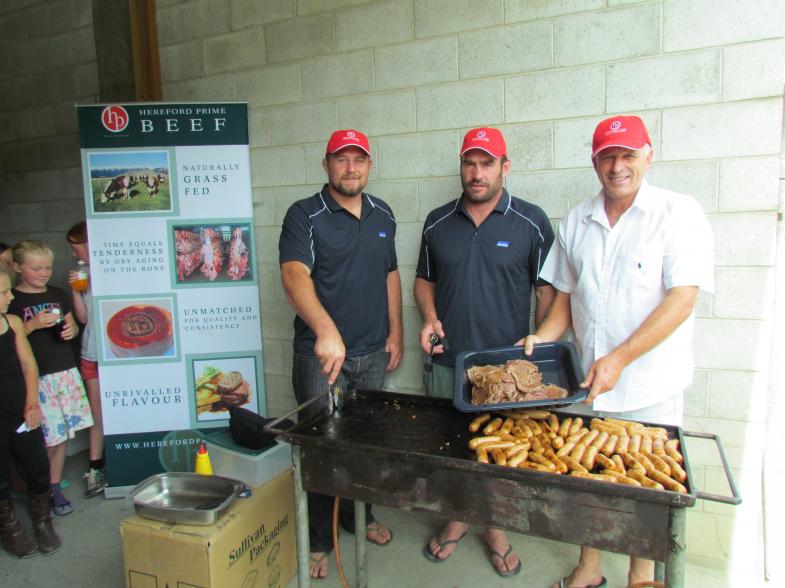 Rugby legends Tony Woodcock left, Andrew Hore and Gray Pannett
from Limehills Herefords with some of the mouth watering Hereford Prime
ribeye steak and sausages at the Tru Test Boots-N-All BBQ.
Hereford Prime teamed up with a couple of sporting legends in central Otago recently who cooked up some Hereford Prime sausages and ribeye steaks as part of a Tru Test promotion.
All Blacks and Highlanders rugby stars Andrew Hore and Tony Woodcock (both beef farmers) were part of the prize for the Tru Test Boots-n-All Barbie which was won by Hereford breeders Gray and Robyn Pannett. Along with the BBQ the Pannetts won a catered evening for their friends joined by the rugby stars.
Hereford Prime partnered with Tru Test at the BBQ, with the succulent beef supplied by Bowmont Wholesale Meats in Invercargill.
Afterwards the Hereford Prime team had a quick catch up with Andrew and Tony talking about rugby, quality beef and farming.
Keep an eye out for what they had to say by "liking" Hereford Prime on Facebook and following us on Twitter (HerefordPrimeNZ). Click below...
Hereford Prime Welcomes New Processing Partner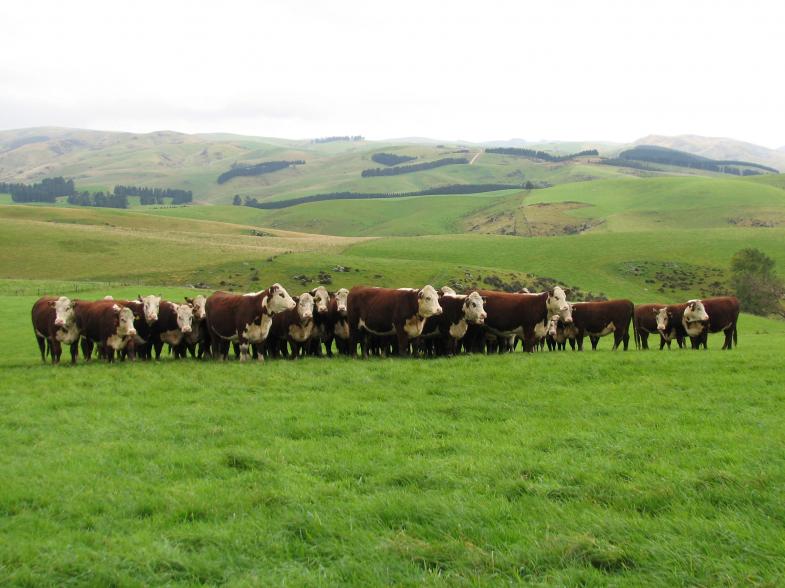 Hereford Prime Beef NZ is delighted to introduce a new processing partner, located in the Wairarapa.
Cabernet Foods has joined the brand as its third family owned processing partner. Based at Gladstone, in the Wairarapa Cabernet joins existing processors Bowmont Wholesales Meats in Invercargill and Magills Meats in Te Awamutu.
Cabernet Foods are meat wholesalers and processors with their own supply chain and will be offering Hereford Prime supplying farmers a premium of 10cents/kg above schedule on carcases that meet all quality criteria.
The schedule is published on their website, www.cabernet.co.nz and is updated every Monday morning.
Chairman of Hereford Prime Laurie Paterson said the brand is delighted to have formed a partnership with Cabernet to supply Hereford Prime into the lower North Island.
"We are pleased to be involved with another family owned company which shares our philosophy on quality and has a wealth of experience in the industry," he said.
"We're looking forward to growing a strong relationship servicing clients in the region," said Laurie.
Cabernet Foods managing director of processing and procurement, Lyndon Everton is looking forward to working with Hereford Prime.
"The strongly recognised Hereford Prime brand complements Cabernet's service opportunities that our customer base have been seeking."
He describes the family business as the country's most versatile meat supplier.
"We have our own livestock buyers, nursery farms, processing plants, refrigerated delivery vehicles and dedicated sales team. So we are uniquely able to respond to our customers' specific needs."
"Today's sophisticated consumer wants to know where their food has come from. Our flexibility and ability to tailor the supply chain gives us control over our products from paddock to plate," says Lyndon.
Cabernet Foods has a lamb chain at Gladstone and currently processes beef at Ruakura in Waikato and Ashburton in Canterbury and plans are underway to build their own beef plant in the Wairarapa.
They will be sourcing cattle for Hereford Prime from the lower North Island and greater Waikato and while the plan is to gradually build a loyal following of the brand via their existing networks they hope to work closely with the Hereford Prime board to develop new relationships and outlets in restaurants and specialist butcherys.
Cabernet offer flexibility in that they own their own refrigerated transport trucks so both whole carcases and boxed beef can be supplied to clients anywhere. It also means they can tailor the supply chain to suit different clients.
Livestock agent Richard Williams from Rural Co NZ is to act as procurement agent sourcing eligible cattle for the quality beef programme on behalf of Cabernet. Richard has 20 years experience in the livestock business covering territories including the top of the South Island and bottom of the North Island.
Eligible cattle must be pure bred Hereford or first-cross Hereford British beef breed (such as Shorthorn or Angus). Carcase weights of 240-300kg are being targeted and the cattle should grade P. Cattle must also be 100% grass fed and be hormone and GE free.
All farmers supplying the award winning quality beef programme will be provided with a feedback sheet providing the details of the measurements taken from each carcase. These measurements include marbling, pH, fat and meat colour and rib eye muscle size.
In the South Island Bowmont Wholesale Meats are working steadily to grow their market share and are now supplied product by Clover Exports in Gore.
Having Clover on board has grown the market and allowed the Flynn family to concentrate on growing their reach capitalizing on the potential.
Magills Meats are also growing market share with some North Island Affco plants now toll processing small numbers of Hereford Prime eligible cattle.
Cattle eligible for the programme must be:
Pure bred Hereford or first cross Hereford British breed
240-300kgCW and grade P
Grass fed
Hormone and GE free
Strict chiller assessment of ensures only the best beef is sold under the Hereford Prime brand.

To supply Hereford Prime, contact your nearest procurement agent:
Richard Williams (Cabernet) 021 519 153
David Whelan (Magills) 0274 784 941 (accepting Hereford Friesian first cross)
Robin Gamble (Bowmonts) 0274 338 941
Tony Pryde (Bowmonts) 0274 347 230
Wayne File (Affco) 021 502 222 (75% Hereford preferred)
Hereford Prime Beef Endorsed By Top NZ Chefs
Click on the link to view the full episode http://tvnz.co.nz/family-recipes/s1-ep3-video-5579552
Another top NZ chef Jax Hamilton (runner-up from series 2 MasterChef) has recently endorsed Hereford Prime's work on the social media site Twitter.
Follow Hereford Prime on Twitter and Facebook to keep up with the latest developments.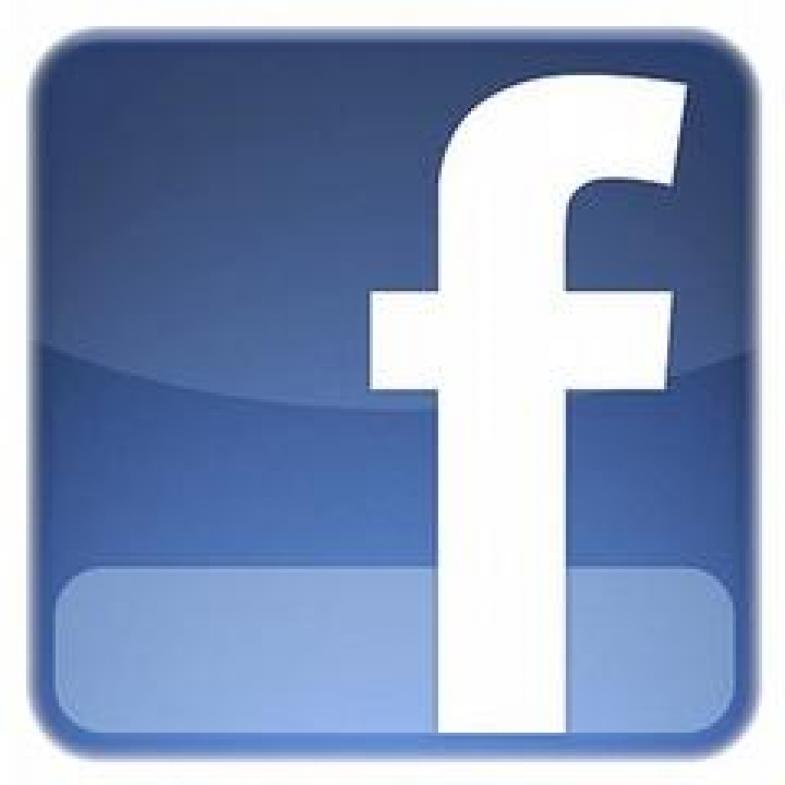 www.facebook.com/herefordprimenz


www.twitter.com/herefordprimenz
Brett McGregor teams up with Hereford Prime


Cured Hereford Prime Beef with Lemongrass, Peanuts & Basil
Serves 4
Prep time 20min – no cooking required

1 red chilli
1/2 cup lime juice
1 tsp palm sugar, grated

1 stalk lemongrass, finely sliced
1 clove of garlic, minced
500g Hereford Prime Beef eye fillet, sliced very thinly

Dressing
1/4 tsp shrimp paste, wrapped in foil and lightly toasted
2 tbsp fish sauce
20g palm sugar
5 tbsp lime juice
1 clove of garlic, minced
1 red chilli
2 tbsp water

Salad
2 shallots, finely sliced
1 cup mung bean sprouts
1 cup fresh mint
1/2 cup Thai basil
1/2 cup green beans, blanched
1/2 cup roasted peanuts to serve

Method
Combine all ingredients for and with the beef and chill for 15 minutes.

In a bowl combine the salad ingredients.

For the dressing, mix the fish sauce with the shrimp paste and combine until dissolved. Combine with the remaining ingredients. Spoon over the dressing and combine with the salad.

Pour excess marinade off the Hereford Prime Beef and arrange the slices on a plate. Top the beef with the salad to serve.